Musicians to Perform at Festival on November 17.
November, 2012 | Westminster, VT. – Kurn Hattin Homes for Children will showcase some of its most talented student singers on Saturday, November 17th at Springfield High School in Vermont. The eighteen 7th and 8th graders, who auditioned and were selected, became members of the Connecticut Valley District VI Middle School Chorus. District VI is a division of the Vermont Music Educators' Association (VMEA) and serves all public schools in the southeast corner of Vermont.  The students from Kurn Hattin will perform with 65 other student singers from 10 schools throughout Southeastern Vermont.
The middle school performance, conducted by Terry Frey from Barre, Vermont, will take place from 3:00 pm on Saturday, November 17th and will conclude the two-day annual music festival. Kurn Hattin singers are Musa Abdi, Sairy Bernandez, Jahyde Bullard, Brianna Coble, Susanna Compare, D'Leanne Solovei, Dominic Cherbonneau, Spencer DeRose, Logen Dion, Jenitza Fernandez, CJ Hopkins, Amza Issa, Gamael Jean-Francois, Chrystal Longe, JJ Ortiz, Evany Rodriguez, Thomas Taylor, and Connor Towsley.
Since Kurn Hattin's inception in 1894, the music program has been an integral part the school's curriculum. The choir and jazz band host annual invitationals, and the children perform over thirty musical engagements per year. A veteran at Kurn Hattin Homes, music program director Lisa Patno Bianconi has taught at Kurn Hattin Homes since 1985. She is responsible for teaching all general music classes, directing the marching, jazz and concert bands, as well as the beginning, select, and advanced student choirs.
For more information about the event contact Lisa Bianconi, (802) 721-6931.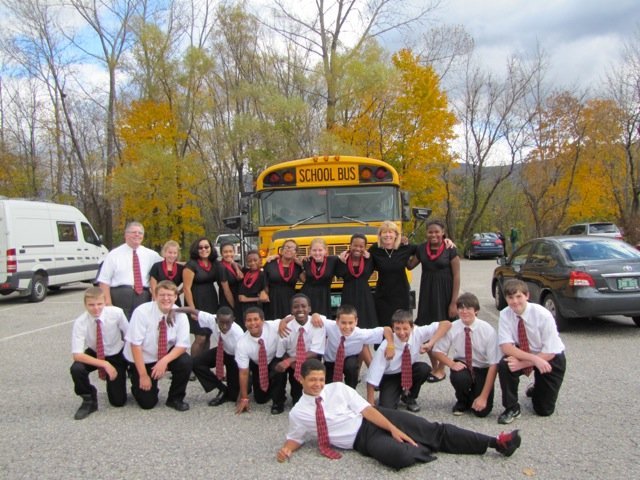 Pictured are the eighteen Kurn Hattin Homes 7th and 8th graders who were selected for the Connecticut Valley District VI Middle School Chorus with their music director, Lisa Bianconi and music volunteer, Chris Goding.
Established in 1894, Kurn Hattin Homes for Children in Westminster, Vermont is a charitable home and school for boys and girls, ages 6-15, who are affected by tragedy, social or economic hardship, or other disruption in family life. Its mission: Kurn Hattin transforms the lives of children and their families forever. www.kurnhattin.org.
Contact: Kim Fine
Kurn Hattin Homes
PO Box 127
Westminster, VT 05158
Tel: (802) 721-6914