Every October for the past two decades, Kurn Hattin Homes for Children has hosted its Annual Professional Development Conference. The event is an all day workshop attended by educators, counselors, therapists, and health professionals and features an expert in the field of child care, child development, and other significant issues affecting children and families. Past conferences have included topics such as cyberbullying, helping families out of poverty, and solution-focused counseling for children and families, among others.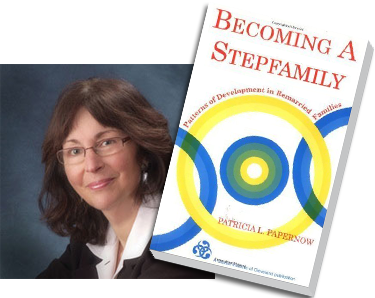 October 26th marks Kurn Hattin's 21st Annual Conference, featuring Harvard psychologist Patricia Papernow, Ed.D. Dr. Papernow, an internationally recognized expert on stepfamilies and post-divorce parenting and author of the book, Becoming a Stepfamily, will present a workshop entitled "Untangling Blended Families."
Highlighting the importance of addressing issues related to stepfamilies, Dr. Papernow cites the following statistics:
In the U.S. today…
25% of new marriages form stepfamilies
1 out of 3 children under 18 now lives in a stepfamily
1 out of 2 Americans will live in a step relationship at some point in their lives
Behind the hard numbers are the real-life stories of major life changes, shifts in family foundations, and often complex and challenging interpersonal relationships. According to Papernow, if not handled with care, these transitions may be most difficult for the children involved. "The good news is that we have a lot of information about what works and what does not to meet these challenges," says Papernow, "The bad news is that what works is often not intuitive and there is a lot of bad advice out there."
Dr. Papernow offers the following practical tips for healthy stepfamily relationships:
1) Keep conflict levels low.
Kids do best when parents, stepparents, and ex-spouses cooperate and collaborate, but this is often easier said than done. Even moderate amounts of conflict between spouses or ex-spouses can have a negative effect on young family members. "Children feel their parents' stress," she says. "When adults' tension goes up, the levels of the hormone, cortisol, rises in our body, and studies have shown that children's levels of cortisol also rise to those same levels." Adults need to use their best skills to avoid conflict, and if differences and disagreements arise, keep it private and protect children from that harmful stress.
2) Help children feel safe and centered.
Straddling two families and two home environments can be overwhelming for children, as well as for adults. Decades of research has established that adult conflict, even moderate tension, has devastating effects on children's wellbeing. Complain about your ex, to your partner, or to your friends, but not to children. It is also essential for adults to remain calm with each other at these times. If adults cannot make the transfer without tension, arrange for children to be dropped off at school by one parent, and picked up at the end of the day by the other.
For overnights, adopting a "2-2-5-5 schedule" (i.e., Monday and Tuesday are always with Mom, Wednesday and Thursday are always with Dad, weekends switch back and forth) can make planning easier and give children weekday consistency, give the new couple both time alone and time with kids. Especially for younger children at both homes, it's helpful to post a calendar marked with "mom nights" and "dad nights." When mishaps occur (the forgotten backpack, the missed school bus) remember that the adults—not the children—created the situation.
3) Maintain as much stability as possible.
Children, especially those under nine years old and adolescents, need extra reassurance that their world isn't going to fall apart. As much as possible, try to maintain the regular routine. In new stepfamilies, new parenting styles and differing ideas about what's best for the kids are inevitable. Stepparents do need some changes in order to feel at home. Still, make changes to systems or rules gradually with no more than one or two rules changed at a time.
4) Focus on connection vs. correction.
A new family needs time to gel, and the journey isn't always smooth. Make efforts to set realistic, calm expectations for all involved. When kids aren't behaving their best, the research is absolutely clear that children do best when the parent, rather than the stepparent, is the disciplinarian.. Stepparents can give input to parents, with parents having final say. Meanwhile stepparents can focus on being warm, supportive, and approachable. Children in stepfamilies may need a lot of distance from stepparents. Parents can help by being supportive and caring to stepparents when children's actions or attitudes are frustrating.
5) Take care of all the relationships in the family.
Through a divorce, as well as when parents recouple, children inevitably experience some loss of parental attention. For adults going through an adjustment period, staying attentive and involved with kids can be a challenge. New couples need time to be together, and so do parents and children. One-to-one time also helps stepparents and stepchildren get to know each other. Parents can help by making an effort to be available and spending some special one-on-one time with both their children and their partners. Check-in phone calls just to say 'hi,' ask how the basketball game went, or get input on weekend plans can go a long way, too. New stepparents can help by giving parents and children space to be together on a regular basis.
Interested in learning more? Register online for Kurn Hattin's 21st Annual Professional Development Conference, scheduled for Friday, October 26, 2012 in Westminster Vermont.
——
Established in 1894, Kurn Hattin Homes for Children in Westminster, Vermont is a charitable home and school for boys and girls, ages 6-15, who are affected by tragedy, social or economic hardship, or other disruption in family life. Its mission: Kurn Hattin transforms the lives of children and their families forever.