Be ours a purpose firm and sure
Be ours a manhood staunch and pure
~Reverend Charles Dickinson, Kurn Hattin's founder, in his Harvard Class Day poem, 1876
There's a lot to say about Kurn Hattin: About the steadfast legacy, more than a century old, of caring for children, each with his or her own story to tell. About the hundreds of passionate, dedicated staff, volunteers and donors over the decades, who have gone the extra mile to make a difference for children in need. About hope and trust recovered, families strengthened, and lives placed lovingly back on track.
So, how do you capture such a noble enterprise in just a few words? That was precisely the task set before Kurn Hattin's Mission Statement Committee. The committee, a group of ten individuals with close ties to Kurn Hattin, met between July and November, 2011 to create a new, shorter statement to capture the mind, heart, and soul of the organization.
Over the course of the five-month period, the committee discussed beliefs and values, heard stories told by graduates about the impact Kurn Hattin had on their lives, and reviewed surveys from a sampling of Kurn Hattin's immediate and extended family, who responded to two questions:
1) When you think of Kurn Hattin what words come to mind?
2) How would you describe Kurn Hattin's purpose?
The responses to the first question generated a vast pool of evocative and inspirational words: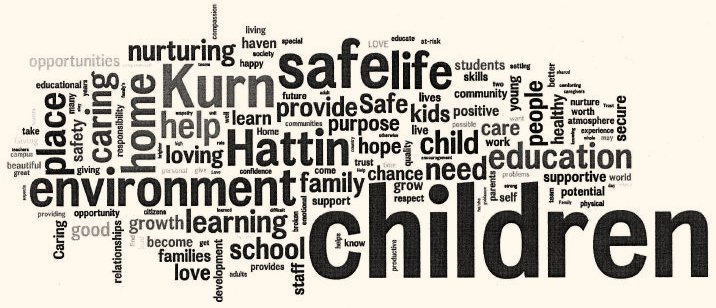 The answers to Question 2 also yielded touching articulations of what Kurn Hattin means to so many:
"To provide stability in this unstable world"
"To invest in a child's life so deeply that she/he is positively affected for a productive life"
"To help children and families reunite into fully productive, loving units"
"A place where you can ride on the winds of hope, knowing that all you want to be is possible, just by believing in who you are"
After careful review of the responses, numerous brainstorming meetings and countless correspondences to weigh input and harvest ideas, the committee members arrived at a consensus and crafted Kurn Hattin's new vision statement:
Kurn Hattin transforms the lives of children and their families forever.
Development Director, Connie Sanderson, who served on the committee says, "The new statement is the motivational force behind everything Kurn Hattin does. It is the statement that shares the dream of our organization, of what we can be."
Executive Director, Christopher Barry, complemented the mission statement committee, "The energy and cross section of people on this committee worked so well together to create a remarkable statement that is concise, clear and direct and imparts what we, the staff, work so hard to achieve every day. It's perfect." Kristy Trujillo, Class of 1986 wrote this on Facebook after reading a post about the new mission statement, "Wow, reading this made me cry, this describes Kurn Hattin so wonderfully. It did change me and my family forever. The best memories of my childhood were made there with some of the most amazing brothers and sisters that I will always have. Kurn Hattin is still in my heart and all the boys and girls are still my brothers and sisters, even after 25 years. I love Kurn Hattin."
"Be ours a purpose firm and sure" wrote Kurn Hattin's founder, Reverend Charles Dickinson in 1876. The wording of Kurn Hattin's mission may have changed some, but over a century later, Dickinson's original vision and his legacy of caring for children remain unwavering.
This is the first in a series of features that will tell the story of Kurn Hattin, past, present, and future. We look forward to sharing the rich tapestry and history of Kurn Hattin through historical archives and community voices.
Whether you're already part of Kurn Hattin's warm circle of friends, or you'd like to learn more, you are always welcome here.
Subscribe to the Kurn Hattin Blog and stay in touch with what's happening at this amazing place