Alumni Return For Annual Meeting & Annual Kurn Hattin Day Celebration
Westminster–Eighth grader, Bryce Butler was Master of Ceremonies at The History of Rock n' Roll 26th Annual Kurn Hattin Day Celebration. The children's performance of song, music and dance had the audience in awe. This event held each year is welcome home the alumni and thank the many people who support Kurn Hattin Homes. Special thanks also go to volunteers Chris Goding, Judy Spinella, Lindsey Soboleski, Janet Wilson, Sierra Sylvester, Scotty Tabachnick and Jerry Bardwell'73 who performed a lovely duet with one of the children. Thanks also to David Curtis, Sound and Dave Bellimer for lighting.
The Kurn Hattin alumni also hold their Annual Meeting on this occasion. Jackie LaDue Mallory'54 of St. Petersburg, FL was re-elected as President. Jasmin Sears Queen'90 of Peterborough, NH was re-elected as Secretary. Carolyn Blake-Deyo'54 of Springfield, VT serves as Vice President and Donald Campbell'49 of Putney, VT serves as Treasurer. During the alumni meeting, prizes were given to the alumnus/na who was the youngest, oldest and farthest away. Austin Ladd'12 won for the youngest. Clayton Russell'49 won for the eldest and Randy Logsdon'69 and Phil Sherrick'81 (both from VA) won for the farthest away. Some of the alumni graduated 70 years ago and some just last year. Alumni and guests came with their friends and families. The alumni gathering, the luncheon, and the children's performance–all were exceptional. It was a full house and everyone had a great time on a beautiful day.
A life celebration was also held for Duane E. Miller'70 and former houseparent who recently passed away. The children and staff built a bridge at the foot of the hiking trail and dedicated it to his memory. Duane and his Kurn Hattin forestry class had built a similar bridge many years ago.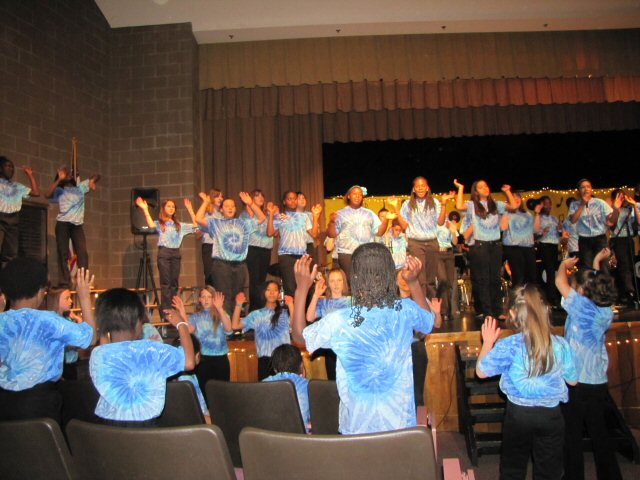 Photo caption: Kurn Hattin children performing at the 26th Annual Kurn Hattin Day Celebration.
Since 1894, Kurn Hattin has helped thousands of at-risk children and their families by offering a safe home and quality education in a nurturing environment. Kurn Hattin transforms the lives of children and their families forever. www.kurnhattin.org