American Legion Auxiliary Awards Ten Kurn Hattin Essayists
Westminster, Vermont–On May 30, 2013 at the end of the school day, the American Legion Auxiliary Unit #37 in Bellows Falls attended the Kurn Hattin school assembly and awarded ten students who participated in their Americanism Essay Contest. All were presented with a certificate of achievement, a gift card to Walmart and much praise for their thoughtful and inspirational essays. This year's theme was "What Freedom Do I Enjoy". Some topics within the theme included: freedom of speech, women's rights, freedom of religion & speech, freedom to have an education. The majority of the essayists chose to write about freedom of speech and what they were most thankful for and enjoyed having both as a citizen and as a student.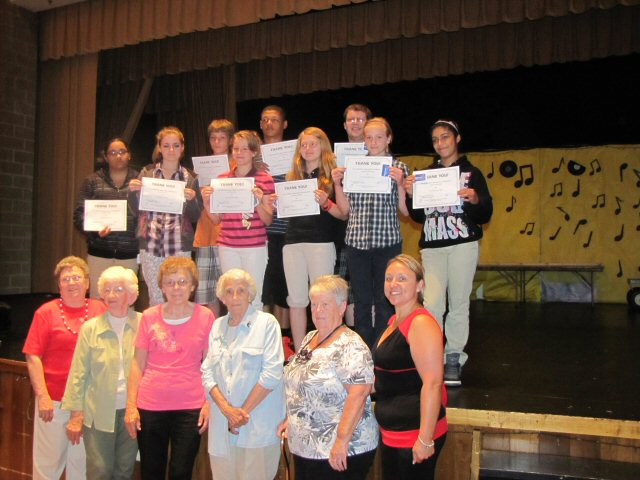 PHOTO CAPTION: On stage are the contest winners (7th & 8th graders) from left to right: D'Leanne Solovei, Kayley Rogstad, David Curtis, Chrystal Longe, Jahyde Bullard, Susanna Compare, Thomas Taylor, Montana Fellows, and Jenitza Fernandez. Missing from photo is Krysta Gottfried. In front of the stage from the American Legion Auxiliary Unit #37 in Bellows Falls are Helen Gideos, Kay Long, Pat Robinson, Margaret Tidd, Nancy Wright, and Marcy Smith.
Since 1894, Kurn Hattin has helped thousands of at-risk children and their families by offering a safe home and quality education in a nurturing environment. Kurn Hattin transforms the lives of children and their families forever. www.kurnhattin.org