Burlington Priest Recognized for Dedication to Kurn Hattin Homes
The Charles Albert Dickinson Award, established in 2013, is given annually in recognition of an organization or individual whose philanthropic commitment embodies the mission of New England Kurn Hattin Homes for Children. Named for its founder, The Reverend Charles Albert Dickinson, this award recognizes those who make a significant contribution to the field of child welfare and assistance in an effort to transform the lives of children and families forever. A beautiful cast crystal relief sculpture honoring the award recipient features an image of Reverend Dickinson. The sculpture was designed and created by Vermont artist, Robert DuGrenier.
This year's recipient, Father Lance W. Harlow of St. Joseph's Cathedral in Burlington, VT, became involved with Kurn Hattin in 2005. He was asked to participate in Kurn Hattin's music program which led to his playing in the bands and choir on and off campus. In 2011, he was transferred to Williston, VT which no longer allowed him to have as much on-site contact with Kurn Hattin, but it opened up new doors for spreading the news of the great work taking place here. He committed his parishes to financial and material support of the Homes through collections of clothing, toys, and school supplies. Around 2015, he created The St. Nicholas Project, which is a collaboration between the Catholic community in Vermont and Kurn Hattin Homes to provide material and financial support to assist KH in its mission to children and families. In 2017, The St. Nicholas Project initiated the very successful back-to- school shoes fundraiser to obtain donations for the purchase of shoes for the children. The St. Nicholas Project is named after St. Nicholas, the patron saint of children, who was renown during his lifetime for his charity towards children and families in need. This past year, he has used the occasion of his silver jubilee of priestly ordination to conduct a Christmas raffle in honor of 25 years of ordination. The raffle raised over $20,000!
The 2017 Charles Albert Dickinson Award has been given to Father Lance W. Harlow for his unwavering dedication to Kurn Hattin, his untiring support of our children, his spirit of graciousness in all matters, and his spreading the good news of Kurn Hattin Homes throughout the state of Vermont and well beyond. Previous Charles Albert Dickinson Award recipients are 2016 George W. Nostrand, 2015 John & Carol Hubbard, 2014 The Rite Aid Foundation, and 2013 The National Society of New England Women.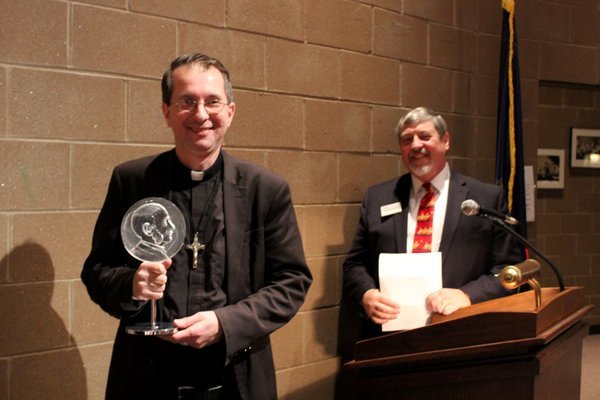 Photo Caption: Father Lance Harlow of St. Joseph's Cathedral in Burlington, VT, holds the 2017 Charles Albert Dickinson Award from Kurn Hattin Homes for Children, given in recognition of his significant contribution to the field of child welfare and assistance in an effort to transform the lives of children and families forever