WESTMINSTER, VT. | August 23, 2013 On Saturday, September 7th in Lebanon NH and Sunday, September 8th at Landmark College in Putney VT, the Kurn Hattin Choir will perform at the Wings of Hope benefit for Hospice of Vermont and New Hampshire. The event will include the release of live butterflies to honor friends and family who have passed. Kurn Hattin students will sing a number of musical selections and invite the audience to participate in the final song, Amazing Grace, to close the program.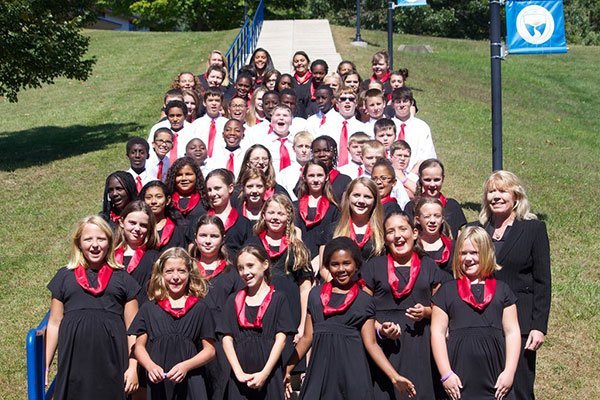 (Kurn Hattin Choir)
"Last year someone at Landmark College, where we host our event, suggested we connect with Kurn Hattin's choir," says Jolene Archambeault, event organizer. "When I researched them on the school's website, I was impressed to see that even though these kids had come from such tough circumstances, they were remarkably poised and confident." The Choir received a positive response at that event in Putney and this year have been invited to perform at both Wings of Hope events, in Putney and in Lebanon, NH.
"Last year's Wings of Hope event was a great learning opportunity for the students." says Lisa Bianconi, Music Director at Kurn Hattin. "They experienced sharing their gift of music to celebrate the gift of life. Most of our children come from challenging situations and music gives them strength, power and hope. Performing here, in turn, provides that strength, power, and hope to the audience."
Bianconi understands something about touching lives through music, as one of 217 quarterfinalists selected from 30,000 nominees for the first ever Music Educator's Grammy, to be awarded in January. The music program at Kurn Hattin Homes for Children has been an integral part of the school's curriculum since its inception in 1894. Today all students participate in one or more aspects of the program.
Music plays an important role in hospice work as well. "The resonance of music can help patients and their loved ones reach a place of peace and calm inside, and can help them access spiritual resources that may or may not be accessible via faith. Having the Kurn Hattin Home Children's Choir as a part of our Wings of Hope events is so wonderful and so fitting – we are grateful to them for being part of it," says Catherine Hogan the Director of Development & Community Relations for Visiting Nurse & Hospice of VT and NH.
Like Kurn Hattin, the Visiting Nurse and Hospice of Vermont and New Hampshire has also been a positive presence in the area for over a century, serving individuals and families by providing clinically excellent care and compassionate support in the comfort of their own homes. "We're happy to have them back again this year. There is something very moving about children honoring those who have passed on in such a respectful and beautiful way," says Archambeault.
The public is welcome to attend this event on Saturday, September 7th in Lebanon NH or Sunday, September 8th at Landmark College in Putney VT, and may purchase a butterfly for $20 to honor a loved one and support Hospice services in the area. Order forms are available at www.vnavnh.org
Established in 1894, Kurn Hattin Homes for Children in Westminster, Vermont is a charitable, year-round home and school for boys and girls, ages 6-15, who are affected by tragedy and social or economic hardship. Kurn Hattin Homes transforms the lives of children and their families forever.
---
View photos of the event:
To download print-quality images click on any photo and then use download icon in bottom right. [flickr set=72157635443319504]