Compass School Tells Stories To Kurn Hattin
March 9, 2012 | Westminster, Vermont – The youngest Kurn Hattin children were enthralled with the story telling and enactment performed by the Compass School students. One week each year, Compass School teacher, Ron Boslun and his class of actors hit the road and entertain area school children with story, music and play.
This was their first time to visit the Kurn Hattin children. In celebration of American writer, poet and cartoonist, Theodor Seuss Geisel, known to most as Dr. Seuss, and whose birthday was March 2, the story tellers chose three Dr. Seuss stories to perform. They chose The Sneetches; What Am I Afraid Of; and A Fly Went By as well as Ferninand The Bull, a Monro Leaf story adapted by Walt Disney; and a Pete Seeger story, Abiyoyo. Several of the Kurn Hattin children were invited on stage as extras and everyone had a great time. There's nothing like listening to and watching a great story. We thank the Compass School for including Kurn Hattin in their story telling tour this year.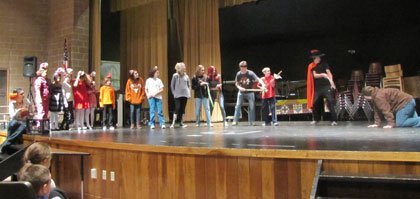 Photo caption: Kurn Hattin students on stage with the Compass School students during their story telling tour.
Kurn Hattin Homes is a year-round, charitable home and school for in-need and at-risk boys and girls, ages 6-15, from throughout the northeast.
Contact: Kim Fine
Kurn Hattin Homes
PO Box 127
Westminster, VT 05158
Tel: (802) 721-6914