Diversity Week at Kurn Hattin
January 25, 2012 | Westminster, Vermont – Kurn Hattin Homes School Principal, Scotty Tabachnick has a lot of experience with Diversity. He was he Diversity teacher at Brattleboro Union High school and earned A WORLD OF DIFFERENCE® Institute Teacher Recognition Award by the Anti-Defamation League New England Region in 2006.
He was very excited to facilitate this event at Kurn Hattin. "I believe that Diversity Education is an essential and often overlooked element of a balanced K-8 curriculum. America's Diversity is one of our greatest strengths and a source of national pride for all of us." We had a variety of local guest educators come to work with our children to help them to consider aspects and issues related to Diversity in the United States.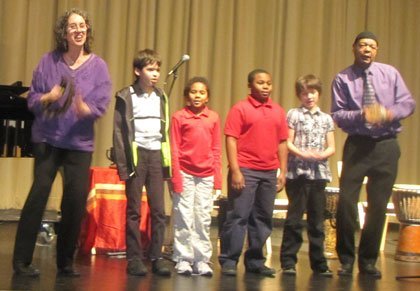 Pictured are some Kurn Hattin children singing with Moonlight and Morning Star during Diversity Week.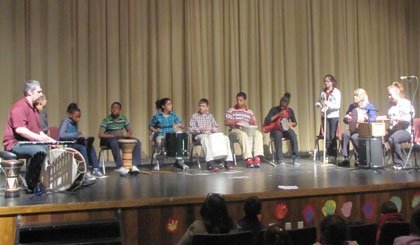 Pictured are Todd Roach and the Kurn Hattin children drumming together during Diversity Week.
The presenters were:
Nancy Clingan is a case coordinator at Kurn Hattin Homes. She has worked with White Privilege and Undoing Racism organizations, has volunteered at the Brattleboro Aids Project and Hospice programs and is a trained sex educator, art therapist and play therapist. She is also the Director of a women's empowerment organization called Making the Most of I.
The Common Ground Multicultural Club provides a forum for Keene State University students interested in the issues of diversity and multiculturalism to get together, provide support to one another, and organize social and educational events that have a multicultural focus.
Kate Fleming is an advocate and educator and works for the Women's Freedom Center.
Curtiss Reed and Shela Linton are student and family advocates and educators. They work for Vermont Partnership for Fairness and Diversity. He is the Executive Director.
Moonlight and Morning Star create programs for adults and children on the themes of social justice, cultural understanding and the honoring of the earth and all of its inhabitants.
Dr. Dottie Morris is the Chief Officer for Diversity and Multiculturalism at Keene State University.
Todd Roach is a Vermont-based percussionist, teacher and producer who focuses primarily upon Middle Eastern and North African percussion. He is also the founder and Executive Director of a performance space and production company called The Loft.
Mikaela Simms is the Diversity Coordinator for Windham Southeast Supervisory Union. She works directly with children and plans educational events for the students in her district.
Diversity Week began with an assembly devoted to Dr. Martin Luther King Jr.'s Legacy. with later discussions and workshops delving into stereotype, prejudice and discrimination, the impact of class and gender bias, diversity of art and poetry, diversity and racism in America, the impact of maps and inclusive language. Moonlight and Morning Star with Miro Sprague and Todd Roach had the children fully engaged in world song, blues, jazz and Turkish drumming. Along with Todd Roach, the children gave a wow performance on an eclectic array of percussion instruments from around the world. Several students also read poetry they wrote about a time when they felt alienated or excluded.
Below is one of the poems that was read during the week's finale. It is by eighth grader, Danielle LaBrecque.
They Say Beauty Is Skin Deep
They say that beauty is skin deep.
But people judge me anyway.
They say no ones perfect.
But when I look around at those people, I see flawlessness.
They say some day it will all make sense.
But I wish that day would come.
They say that there are three of us
Who we are. Who we want to be. And who people see us as.
But I am ugly.
They say a smile holds a thousand tears. But mine holds millions.
They say never give up and try to hold on.
But I'm already falling.
They also say,
You are who you are.
I am proud to be who I am.
They say when you try you will succeed.
I will become someone.
They say don't hate life, hate reality.
I am happy to be alive.
They say beauty is only skin deep.
And on the inside I am beautiful!
The Kurn Hattin Kitchen staff also prepared a wide selection of ethnic foods for lunches and the library had a vast assortment of topical books on display. It was an educational and provocative week to remember for students and staff alike.
Kurn Hattin Homes is a year-round, charitable home and school for in-need and at-risk boys and girls, ages 6-15, from throughout the northeast.