Election of Officers at Kurn Hattin Homes & Tribute to Chris Barry
September 23, 2011 | Westminster, Vermont -On September 21st, Kurn Hattin held its 116th Annual Meeting of the Corporation. Executive Director, Christopher Barry was given a special tribute as this will be his last Annual Meeting of the Board of Directors.
Among the various accolades he received: children sang songs special to Chris, his sister and Kurn Hattin teacher, Mary Kay Pfadenhauer and one of his first students, Jerry Bardwell '73 gave heartfelt addresses, the Board presented a very special gift–a trip to Ireland and dinner following the meeting was the executive director's favorite-corned beef and cabbage and Boston cream pie. It was a very special evening for a very special man.
During the business meeting, an election was held to fill vacancies for three Incorporators. Gordon Bristol is the principal in Gordon Bristol Consulting specializing in construction management. He owns and manages the local Veterans Affairs Community Based Outpatient Clinic located at Exit One Industrial Park in Brattleboro. He lives in Windham County and will serve term of three years.
Stephen Durand has been in the automobile business for 32 years and got his start in his family's Chevrolet Business. Stephen and Durand Toyota Ford have been Kurn Hattin benefit event supporters of both the Kurn Hattin Golf Classic and the upcoming A Taste of Hope wine tasting event. Stephen resides in Walpole, New Hampshire and will serve a term of three years.
Jane Kirkpatrick grew up on a small dairy farm on Back Westminster Road in Westminster. She has been a pharmacist for nearly three decades. She is employed at Pete's Pharmacy in Springfield, Vermont. She lives in Gageville, Vermont and will serve a term of one year.
Fifteen Incorporators were re-elected for terms of three years; William Abbott, Gary Carrier, Frances Cheslock, John A. Korpela, Rick Manson, David J. Maysilles, Walter Menzel, Corey Mitchell, George Nostrand, Michael Obuchowski, Elaine Sinclair, Roberta Violette, Ronald M. Williams, and Janet Wilson.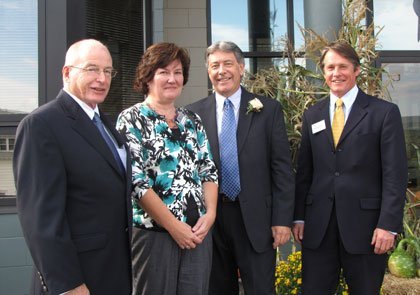 PHOTO CAPTION: (l-r) Kurn Hattin Homes' Gary Carrier, Trustee, Executive Committee, Jane Kirkpatrick, Incorporator, Christopher Barry, Executive Director and Charles P. Kelsey, Trustee, Executive Committee.
Re-elected as Trustees to terms of three year were Elizabeth Maiola, Rick Manson, Walter Menzel, Michael Obuchowski and Trudy Walker. Patrick Crotty will fill a one-year Trustee vacancy. A special recognition was given to trustees, George Nostrand and Merton Snow who are going off the Board.
The Board re-elected the following officers for a term of one year: Secretary, Elizabeth Maiola, of Newport, New Hampshire, Assistant Secretary, George W. Nostrand of Bellows Falls, Vermont, and Treasurer, Janet Wilson of Walpole, New Hampshire.
Elected as officers and members of the Executive Committee for a term of one year: President, David J. Maysilles '43 of Walpole, New Hampshire, Vice President, Ronald Williams of Madison, Connecticut, Vice President, Charles P. Kelsey of Deerfield, New Hampshire, Member at Large, Gary Carrier of Brattleboro, Vermont and Elizabeth Maiola of Newport, New Hampshire.
Kurn Hattin is a charitable, year-round, residential home and school located in Westminster, Vermont serving in-need and at-risk children, ages 6-15, from throughout the Northeast.