September 24, 2010 | Westminster, Vermont – On September 22nd, Kurn Hattin held its 115th Annual Meeting of the Corporation. During the business meeting, an election was held to fill vacancies for three Incorporators. They will each serve for a term of three years.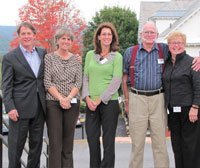 Mr. Bill Fenn: With a long family history of involvement at Kurn Hattin, and when a student at Vermont Academy in his younger days, Bill became familiar with Kurn Hattin and is still an active supporter. An avid hiker, he enjoys walking every day and is a care-giver to his mother, Mary Fenn. Bill is a driver for the Meals on Wheels program in the Windsor, VT area, volunteering many hours to this organization, and to his church. Bill is retired after 30 years at a full-service station in White River Junction.
Ms. Michelle Laurendeau: Michelle is currently the manager of Greater Falls Pharmacy and The Scrapbook Nook in Bellows Falls, VT, where she has been employed for the past six years. Prior to this position, Michelle was employed by the United Way of Windham County and spent over twelve years working in the Development Department at Kurn Hattin Homes. Michelle lives with her husband Donald and two daughters Megan and Brittany in Bellows Falls.
Rhonda Gaudreau Nolan '77: Rhonda was born in Burlington, Vermont and grew up in Springfield, Massachusetts. She and her brother Vaughn attended Kurn Hattin, while their younger sister remained at home. Graduating from the High School of Commerce in Springfield, Rhonda then continued her education at Holyoke Community College, then went on to work at a top law firm as a Legal Secretary. In 1988, she moved to Westchester County, New York and married husband Timothy. After a move to Danbury, Connecticut she attended night classes at Sacred Heart University and finished out a 13-year career with MCI Telecommunications as Budget and Office Administrator and also graduated from SHU with a BA in Business Administration, cum laude. In 2005, Rhonda was accepted to the University of Bridgeport's Internship Education Program and earned an MS Degree in Elementary Education, completing her student teaching in Danbury, CT. While continuing to seek a full time teaching position, she is very much involved in her daughters' lives to include sports, advisor to their Girl Scout troop (since 2001), is a member of the high school Parent Teacher Organization and was also a volunteer mentor through Danbury's School and Business Collaborative Organization. Rhonda is proud of her accomplishments and grateful for a supportive husband. Her family is her biggest priority in life and she feels strongly that her two teenage daughters exhibit the same values that she was taught in her early years of life, particularly during her time at Kurn Hattin.
Fourteen Incorporators were re-elected for terms of three years. Michael Blau, Philip Caliendo, Paul Clough, Ruth DeMone, Bradley Dunbar, Justin Fuller, Christopher Hackett, James Lynch, Sheldon Scott, James Stack, Dr. Vernon Temple, Susan Tidlund, Trudy Walker and Greg Worden.
Re-elected as Trustees to terms of three years: Jerry Bardwell, Gary Carrier, John A. Hubbard, Charles P. Kelsey, Roberta Violette, and Ronald M. Williams.
Ms. Diane Bazin was elected to the Board of Trustees for a term of two years. Ms. Diane Bazin: Diane and her husband Luke have lived in Westminster for over 30 years and owned and operated a local truck dealership for most of those years where she managed the accounting and insurance. Currently, she and her husband own and manage a golf course. Diane enjoys spending time with her two daughters and grandchildren. She was first elected as an Incorporator at Kurn Hattin in 2000, served on the Kurn Hattin Golf Committee and was a sponsor of the tournament. In addition to her volunteer work at Kurn Hattin, Diane practices Reiki and Zero Balancing, serves on the board for Youth Services Diversion and is a head volunteer for the setting out of the Christmas luminary candles along Main Street every year in Westminster.
The Board re-elected the following officers for a term of one year: Secretary, Elizabeth Maiola, of Newport, New Hampshire, Assistant Secretary, George W. Nostrand of Bellows Falls, Vermont, and Treasurer, Janet Wilson of Walpole, New Hampshire.
Elected as officers and members of the Executive Committee for a term of one year: President, David J. Maysilles '43 of Walpole, New Hampshire, Vice President, Ronald Williams of Madison, Connecticut, Vice President, George W. Nostrand of Bellows Falls, Vermont. Member at Large, Charles P. Kelsey of Deerfield, New Hampshire and Member at Large, Elizabeth Maiola of Newport, New Hampshire.