Fundraising, Music, and Sports Fill Weekend at Kurn Hattin Homes
It was a very active weekend for the children at Kurn Hattin Homes.
On Saturday, February 3rd , a group of Kurn Hattin eighth-grade students sold home-made baked goods at the Hartford, VT rest area on I-91 South. The 8th graders raised over $200 which will go toward funding their class trip in March. We are very proud of the students' hard work and dedicated fundraising efforts.
The Kurn Hattin Acapella Choir traveled to Hanover, New Hampshire on Saturday, February 3rd, to sing our National Anthem at the Dartmouth Men's Hockey game at home against Harvard. Then on Sunday, February 4th, the choir headed up to Burlington, Vermont to perform our National Anthem for the University of Vermont Women's Hockey game at home against Merrimack. This game was part of the "Pink in the Rink" rally to support the University of Vermont Cancer Center and breast cancer research. It was a privilege to be invited to sing on the ice for the collegiate-level players and fans. Watching the games afterwards was fun, too.
This week will be the last week of the basketball season for the children at Kurn Hattin Homes. The 3/4 Coed, 5/6 Girls, and 7/8 Girls and Boys teams will all have games throughout the week at home and away. For their schedule please check our website kurnhattin.org. Congratulations to all of our basketball players and coaches for playing their best and displaying good sportsmanship all season.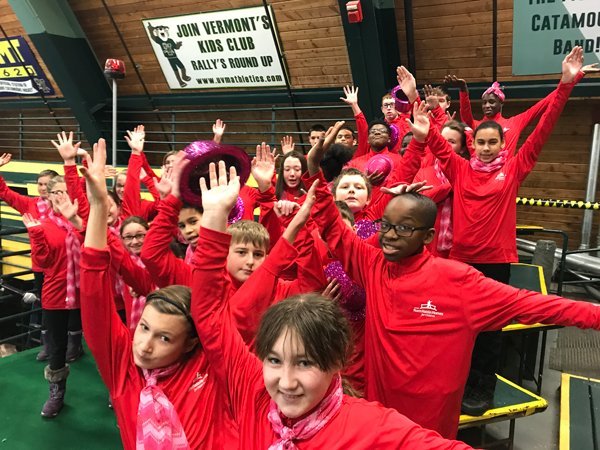 Photo Caption: The Kurn Hattin Acapella Choir shows off their pink accessories after singing our National Anthem at the UVM Women's Hockey game "Pink in the Rink" rally to support the University of Vermont Cancer Center and breast cancer