Golfers Braved the Heat to Raise Funds for Children at 22nd (2013) Annual Kurn Hattin Golf Classic
July 22, 2013 | Westminster, VT – Despite last week's sizzling temperatures, golfers from all over New England came out to the Keene Country Club for the 22nd Annual Kurn Hattin Golf Classic to support children in need from around the Northeast. The event raises funds to help care for the children at Kurn Hattin Homes in Westminster,Vermont, a year-round home and school for boys and girls affected by tragedy, poverty, homelessness, abuse, or other family hardship. The work done at Kurn Hattin Homes is made possible solely by philanthropic donations and fundraisers like the Golf Classic. Monies raised cover tuition, healthcare costs, clothing and other basic needs for the children in Kurn Hattin's care throughout the year. Golfer and Kurn Hattin Incorporator, Scott Bundy, said of the event, "Kurn Hattin is one of those places that gives kids a second chance. You've just got to support a cause like that."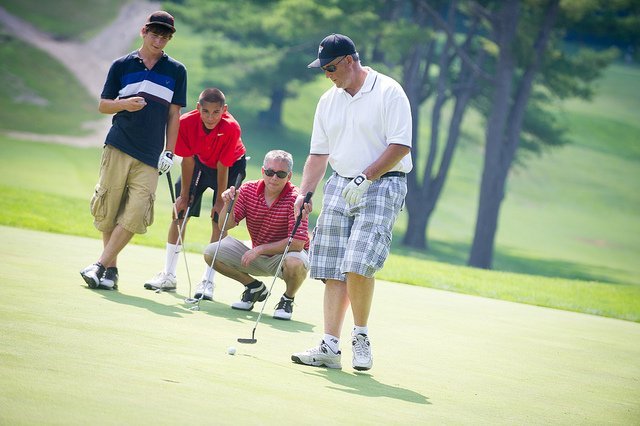 (Fred Bocko of Summit Distributing sizes up a putt, as his teammates look on.) Additional high-res photos of this event are available for download here.
Kurn Hattin Homes thanks this year's Tournament Sponsors, Alburg Golf Links/Luke and Diane Bazin, IPG Employee Benefits, Darlton W. Cenate & Sons Inc., Discount Oil, Prime Buchholz, Sovernet Communications, Summit Distributing, LLC, and Whitney Blake Company, as well as Hole in One Contest Sponsors, Durand Toyota Ford, People's United Bank, and MJ Harrington Jewelers, and Hole Sponsors, Charles Kelsey, Peerless Insurance Company, WKVT, and Yankee Signs. Sean Long of People's United Bank said, "I've been involved with Kurn Hattin for almost 20 years. We're here to support the phenomenal work that they do. Of all the golf tournaments I've been involved with, this is by far the best run and the best organized."
Congratulations to the following winners: First place gross winners: Randy Hicks, Fred Szmitz, Jeff Smith, Mike Kelly, Score 60. First place net winners: John McCarthy, Brian Rappinatti, Eric Anderson, Chris Cenate, Score 53. Second place gross winners: Scott Bundy, John Zimmerman, Deno Mokas, Charles Kelsey, Score 61. Second place net winners: Suzanne Swanson, John Round, Bill Morlock, Jason Houston, Score 56. Third place gross winners: Sean Long, Steve Keefe, Larry Templeton, Richard Colantuono, Score 62. Third place net winners: Vern Violette, Bill Gamache, Steve Tardiff, Jim Bolger, Score 57.
Men closest to the pin were Hardy Merrill, hole # 3, 5'3″ and Jim Bolger on hole #17, 5'3″. Women closest to the pin were Nancy Goutas, hole #8, blind draw, and Pam Cruickshank, hole #19, 20'5″. Men's longest drive were Eric Anderson, hole # 7 and Pete Bradshaw, hole #13. Women's longest drive was Nancy Goutas, hole #7, and Doreen Durand hole #13.
A heartfelt thanks goes out to all the golfers, sponsors, raffle and auction donors, the Keene Country Club staff, Sheana Rodriquez, Catering Manager; Charlie Kamal, Golf Pro and the Pro Shop staff, and the Golf Committee and volunteers for making this event a great success.
Established in 1894, Kurn Hattin Homes for Children in Westminster, Vermont is a charitable, year-round home and school for boys and girls, ages 6-15, who are affected by tragedy and social or economic hardship. Kurn Hattin Homes transforms the lives of children and their families forever.