Graduation Farewell Address from Dylan Conklin, Valedictorian, Class of 2011
Good afternoon and thank you for attending our 8th grade Graduation. I would like to thank all of my teachers and houseparents; you have done so much for all of us.
You helped us learn responsibility, respect, loyalty, honesty and our own code of ethics and morals. These are all life skills that will take us a long way in life if we choose to apply and utilize them as our guidebook. Beyond all these, you have helped us realize and become the young men and women we want to be, and for that we thank you.
Sometimes the real image and purpose of Kurn Hattin is hard to perceive as a student but as 8th graders we have really started to realize how much the Homes had done for us. Kurn Hattin is a safe haven for all of its students. All of is come here for a variety of reasons ranging from family problems, financial challenges or academic difficulties. No matter the reason, Kurn Hattin has taken us under its wing, and taught us hoe to fly. With the skills and knowledge we have obtained from Kurn Hattin, we can go out and be successful in this world if we so choose and it will be the same for anyone who will ever have the privilege to stay here.
As we were riding to the Basketball Hall of Fame, on our 8th Grade Class Trip, I couldn't stop thinking about how similar we are to a ball of clay. We are imprinted upon so easily and the possibilities with a human life are endless as are with a ball of clay. I feel that Kurn Hattin has helped us all to become our own person; they gave us that chance, that opportunity to be anything our heart so desires. They helped us learn how to choose our own paths in life, how to shape our own ball of clay, and because of that we can live the life that we choose. Collin could be a teacher, Kasey a lawyer, Jessica a professional soccer player, Deionte can be in the NBA and I could be a Marine. Our possibilities are endless.
We will remember the good times and the bad times, like singing on the class trip with Mr. Fahner, meaningful conversations in the cottage, athletic events and enjoying friends and staff who cared for us.
Kurn Hattin was started over 100 years ago as a place where kids could go live if they had a hard life at home, as a place of hope so long ago, and it continues to be that this very day. All of the parents out there know this first hand because your son or daughter is up here on this stage graduating. It is the first step of many, but it is a big step. It is a step towards our future, your future. As you look upon us on this stage, realize that, even though we are young inexperienced, we are the future.
On behalf of the 2011, 8th grade class of Kurn Hattin Homes, we thank you Kurn Hattin!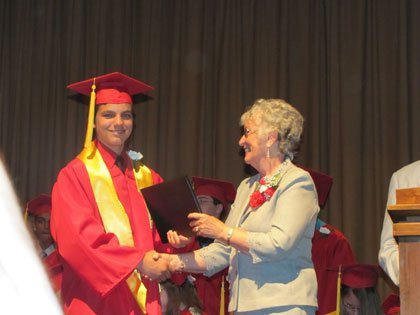 Photo caption: Dylan Conklin, Valedictorian, Class of 2011