GRAMMY Foundation Vice President honors Kurn Hattin music director; Bianconi receives Governor's Proclamation
WESTMINSTER, VT, April 24— Kurn Hattin Homes for Children's Music Director, Lisa Bianconi, was honored today at a special ceremony held on Kurn Hattin's campus and attended by the Grammy Foundation's Senior Vice President, Kristen Madsen, and scores of Bianconi's colleagues, students, family members, friends, and supporters.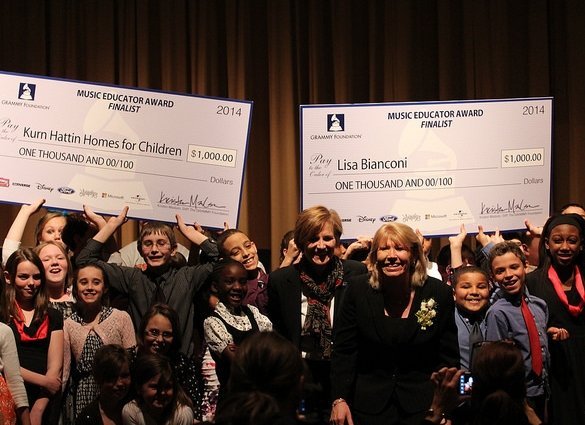 PHOTO: Grammy Foundation Vice President, Kristen Madsen, Lisa Bianconi, and music students at Kurn Hattin Homes for Children| Click for Press-Quality Photo Album | VIDEO
Bianconi was recognized for being one of ten finalists (of 30,000 initial applicants from all 50 states) for the first-ever Grammy Music Educator Award. The award was established in 2013 to recognize educators who "have made a significant and lasting contribution to the field of music education and who demonstrate a commitment to the broader cause of maintaining music education in the schools."
During the ceremony, the Grammy Foundation's Madsen presented matching $1,000 honorarium checks to Bianconi and to Kurn Hattin Homes for Children on behalf of the Grammy Foundation and the Recording Academy. Madsen told the Kurn Hattin students, "Mrs. Bianconi won this award because she not only teaches you music, she also fills your hearts with caring, love, respect, and confidence."
Ronald Williams, the Chief of Kurn Hattin's Executive Committee (Kurn Hattin, Class of 1948), read the Governor's Proclamation issued to Bianconi by Vermont Governor Peter Shumlin. Governor Shumlin congratulated Bianconi for her achievement and for excellence in the field of music education.
Bianconi took the stage to accept the honors, thanking Kurn Hattin's leadership for its strong support for music in the curriculum for 120 years. She then donated her own $1,000 honorarium to the Kurn Hattin children, saying, "I am proud to be your teacher. I have learned a great deal from you. You are resilient and strong."
The event concluded with musical performances by the Kurn Hattin Beginning Choir, the Kurn Hattin Select Choir, and the Kurn Hattin Jazz Ensemble.
Established in 1894, Kurn Hattin Homes for Children in Westminster, Vermont is a charitable, year-round home and school for boys and girls, ages 5-15, who are affected by tragedy and social or economic hardship. Kurn Hattin Homes transforms the lives of children and their families forever.