The Kurn Hattin Homes farm and agricultural science program is featured in this spring's issue of Vermont's Local Banquet, a quarterly magazine which focuses on fresh, local, wholesome foods grown and made in Vermont.
Read the article to find out how students at this Vermont shelter for children in need are cultivating delicious produce and so much more.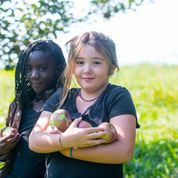 Flourishing in the Fields
Vermont's Local Banquet, Spring 2014, issue twenty-eight
Tucked into a scenic hillside just off of Route 5 in Westminster is Kurn Hattin Homes for Children. Founded 120 years ago, Kurn Hattin is a charitable year-round home for boys and girls from around the Northeast whose families—for whatever reason—are unable to care for them.
And tucked into Kurn Hattin's 280-acre campus is a working farm, which functions both as a therapeutic venue and an outdoor classroom where hands-on learning builds practical skills and relates to everyday life. Throughout the year, children have the opportunity to experience raising pigs, caring for and riding horses, planting, tending, and harvesting organic veggies, cultivating apples and pressing cider, and maple sugaring.
Children who come to Kurn Hattin may be victims of tragedy, poverty, homelessness, abuse, or neglect. As the school's co-executive director, Connie Sanderson, says, "There are 105 children here and 105 reasons why they're here." For many of these children, especially those who come from urban areas, Kurn Hattin is a whole new world. And for most of these kids, it offers their first exposure to agricultural pursuits.