Harvest and Clean Up at the Kurn Hattin Farm
October 22, 2012 | Westminster, VT. – It's the end of October and time to harvest the potatoes, onions, pumpkin and gourds and clean up the fields, gardens beds and split wood in anticipation of winter and maple sugar season. "I really like farming," says Bryce Butler an eighth grader. "These boots and rain gear are great too," he adds of the provisions recently donated by a Kurn Hattin friend.
With all the rain recently, the boys appreciate being able to stay dry when they're doing their after school farm chores. The farm program is an essential part of all the children's learning at the Homes. They learn to appreciate where food comes from and the rewards and challenges of growing one's own food. The science and math classes incorporate the farm in experiential lessons so that all the children have opportunities to have experiences in practical applications.
Established in 1894, Kurn Hattin Homes in Westminster, Vermont is a charitable home and school for children, ages 6-15, who have been affected by tragedy, social or economic hardship, or other disruption in family life. Its mission: Kurn Hattin transforms the lives of children and their families forever. www.kurnhattin.org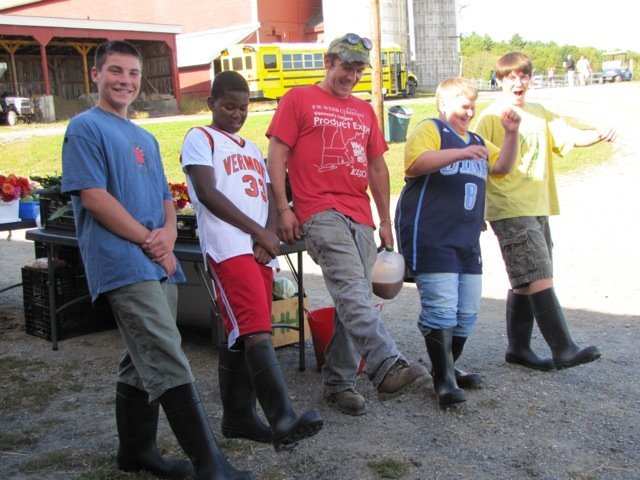 Pat Barry, Farm Manager with the Kurn Hattin Farm Boys splitting wood and showing off their new steel-toed rubber boots.
Contact: Kim Fine
Kurn Hattin Homes
PO Box 127
Westminster, VT 05158
Tel: (802) 721-6914