In seed time learn, in harvest teach, in winter enjoy. ~William Blake
Imagine the incredible potential inside a tiny, unassuming seed. A single seed, when sown and nurtured, sprouts and begins an infinite cycle—growing, bearing fruit and producing new seeds, each one holding within it the same amazing promise.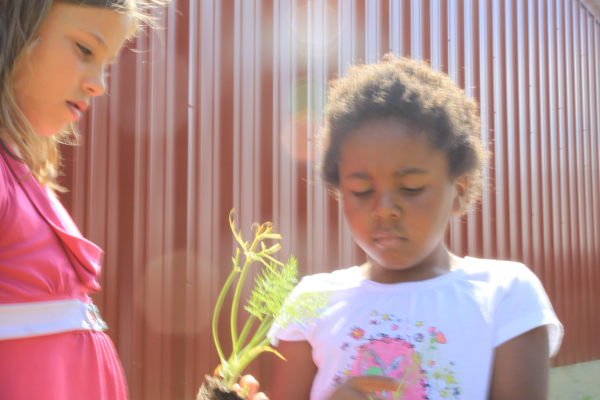 The students at Kurn Hattin Homes for Children experience this cycle firsthand in many ways. On the Kurn Hattin farm, from spring planting, to summer weeding and nurturing, to the autumn harvest time underway right now, students play an active role in making it all happen from field to table.
More and more, research shows, children are growing up disconnected from the natural world, creating detrimental effects on both physical and emotional wellbeing. Having a hand in the growing process, says farm manager Patrick Barry (a.k.a. "Mr. Pat", as he is known to the children) gives at-risk children "a sense of accomplishment and empowerment" and a direct connection to nature that many of them have never had. "Many of the children at this school have come from city environments, so just seeing the stars at night is a big thing. It's great to see the excitement in their eyes while farming. This is an amazing environment to learn, and seeing the sparks from the students is really special." As well, teaching children in need about self-sufficiency and sustainability as they learn to grow their own food plays a role in breaking the cycles of poverty and hunger that are all too close to home for many.
Kurn Hattin's founder, Charles Albert Dickinson developed the school's agricultural education program based on his belief that the rural farm life instilled in children all of the values and strength of character necessary to lead a successful, productive life. Today, those same values—hard work, self-sufficiency, a sense of accomplishment and self-worth—are at the heart of all of Kurn Hattin's efforts, be it in academics, everyday cottage life, music, sports, or in its agricultural and horsemanship programs. Combining classroom learning and hands-on outdoor experiences helps to instill in students a sense of responsibility and stewardship for the natural resources around them.
Like a seed nestled into the warm earth, each child who finds his or her way to Kurn Hattin Homes for Children holds within him or herself great value—amazing potential to grow and to make lasting positive contributions to the world.
Kurn Hattin provides a supportive, nurturing environment—promoting promise, cultivating confidence, and harvesting hope, in turn allowing the children in our care to sow their own seeds for a bright and fruitful future.
Established in 1894, Kurn Hattin Homes for Children in Westminster, Vermont is a charitable home and school for boys and girls, ages 6-15, who are affected by tragedy, social or economic hardship, or other disruption in family life. Its mission: Kurn Hattin transforms the lives of children and their families forever. www.kurnhattin.org.
Click here to find out more about how Kurn Hattin Homes is harvesting hope for children in need every day.