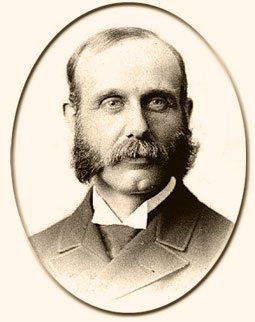 On August 18, 1894 the Articles of Association were signed for New England Kurn Hattin Homes, and the Reverend Charles Albert Dickinson, then pastor of Boston's Berkeley Temple and a native of Westminster, VT, had succeeded in creating a haven for boys and girls who needed a secure place to live, go to school, and grow up to become happy, productive adults. Reverend Dickinson was a man before his time; he believed that young children in need or orphans could be cared for in a nurturing rural setting rather than the urban childcare institution which existed at the time.
The name Kurn Hattin stems from the Hebrew name for the mountain range in Palestine where Christ is said to have recited the Beatitudes. When a close friend of Dickinson's saw the bucolic setting for the first time he uttered the words, " And may these hills be blessed."
Kurn Hattin Milestones
1849
Charles A. Dickinson, founder, was born in Westminster, Vermont
1872
Charles Dickinson graduated from Harvard College
1879
Charles Dickinson graduated from Andover Theological Seminary
1894
Reverend Dickinson took a leave from Berkeley Temple to establish the Kurn Hattin Home for Boys
1894
Kurn Hattin Homes was incorporated in Vermont on August 18, 1894
1894
Volume 1, No. 1 of the Kurn Hattin magazine was published
1895
Bequest of Sarah J. Warner's home and property in Saxtons River, VT,
which later became the Girls' Department
1897
First Annual Meeting of the Vermont Corporation was held in Westminster
1900
Permanent endowment fund was started with a legacy of $2,000
1907
Reverend Dickinson passed away
1907
The title "Kurn Hattin Home Association" was replaced by "New England Kurn Hattin Homes"
1908
Main Building, now known as Mathey Building, was destroyed by fire
1914
The Kurn Hattin Alumni Association was founded
1923
Kurn Hattin began admitting girls
1927
W. I. "Pete" Mayo took over as Kurn Hattin director and served for 35 years
1931
A band was organized at the boys' campus and an orchestra on the girls' campus
1935
The Kurn Hattin magazine became The Kurn Hattin Bulletin
1963
School became coeducational, busing students between campuses
1963
Mr. Mayo passed away
1978
Long-term goal of having all Kurn Hattin children live in small cottages was achieved
1989
The Mayo Memorial Center was dedicated
1994
Kurn Hattin celebrated 100 years of service
2005
Maysilles Cottage was erected, named for David J. Maysilles, class of 1943, former executive director
Choose a decade from the timeline above for more events from Kurn Hattin's history.