Invitational Cross Country Meets Where Everyone's A Winner
September 26, 2012 | Westminister- On September 19, 2012, Kurn Hattin Homes hosted the first of two Invitational Cross-Country Meets on a perfect autumn day. After walking the course at 3:30 p.m., the first of the three divisions for girls and boys, grades 1-8, began running their courses (dirt & grass).
Division I for 6, 7, 8 year olds ran a half mile course.
Division II for 9, 10, 11 year olds ran a one mile course.
Division III for 12, 13 & 14 year olds ran a mile and a half course.

One hundred and ninety-eight children participated from 12 schools. They came from Putney Central, Academy, Ludlow, Chesterfield, The Grammar School, Westminster Central, Reading, Hilltop, Fall Mountain, Greenwood, Claremont Middle and Kurn Hattin. Ribbons were awarded for first, second and third place finishers in each division for boys and girls. The fastest in each of the divisions were:
½ mile 3:46 minutes Davis Parker, Putney Central School
1 mile 6:54 minutes Brian Langevin, Chesterfield School
1 ½ miles 8:59 minutes Russell Boswell, The Grammar School

Each runner, whether in first or last was cheered into the finish line and given a participation ribbon. Everyone's a winner.

The next meet is Wednesday October 3rd. This event is sponsored by the Kurn Hattin Athletic Department. Meet Director is Donna Fahner. Contact Dave Baldasaro at: (802) 721-6905 (weekdays) for information or to register. Food & drink concession stand. No Entry fee.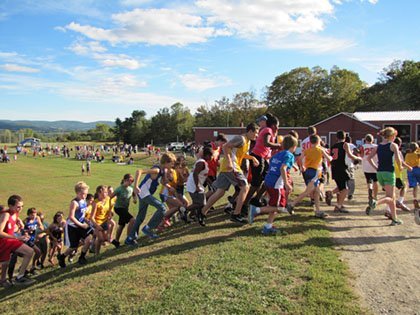 Photo: Children running at the Septmeber 19th Invitational X-Country Meet.
Contact: Kim Fine
Kurn Hattin Homes
PO Box 127
Westminster, VT 05158
Tel: (802) 721-6914