John and Carol Hubbard Receive Kurn Hattin Homes' Charles Albert Dickinson Award
On December 10th, John and Carol Hubbard of Walpole, New Hampshire, were the recipients of Kurn Hattin Homes for Children's Charles Albert Dickinson Award. The Charles Albert Dickinson Award, established in 2013, is given annually in recognition of an individual or organization whose philanthropic commitment embodies the mission of Kurn Hattin Homes for Children. Named for founder Charles Albert Dickinson, the award recognizes those who make a significant contribution to the field of child welfare, and help to transform the lives of children and families forever. The award, designed and created by Vermont artist, Robert DuGrenier, features a beautiful cast crystal relief image of Dickinson.
The Award was presented to John and Carol Hubbard for their unwavering dedication to Kurn Hattin. Following in the footsteps of John's parents, Austin and Winona Hubbard, who were longtime supporters of Kurn Hattin, John became actively involved with the organization at an early age. He went on to become an Incorporator in 1972, a Trustee in 1977, President from 2000 to 2005, Trustee Emeritus in 2012, and served as an enthusiastic Chair of the Golf Tournament Committee for over 15 years. John and his wife, Carol, enjoyed spending time with the Kurn Hattin children, and were often in attendance at events on campus. In addition to their private support, John and Carol spearheaded donations to Kurn Hattin from the New Hampshire Charitable Foundation, a tradition of giving in memory of his parents that continues today. Recently, John and Carol supported the project to bring back a chicken flock to the farm at Kurn Hattin. John, as he accepted the honorary sculpture on behalf of the couple, explained, "Carol and I believe in Kurn Hattin's mission, and we are pleased to have been a part of it."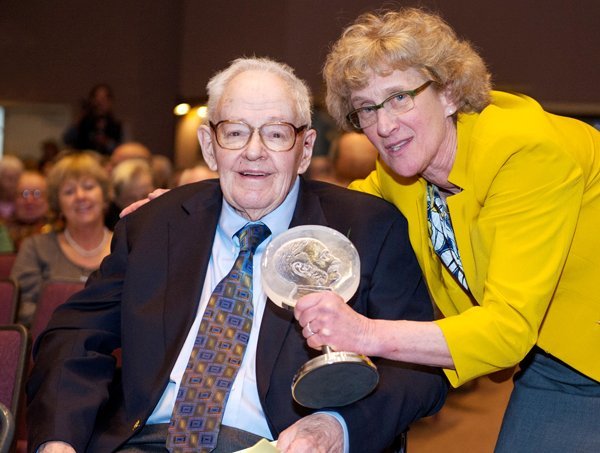 Photo Captions: 1) John Hubbard accepting the Charles Albert Dickinson Award from Kurn Hattin Admissions Director, Sue Kessler; 2) The Hubbard Family from L to R: Susan and Peter Johnson, John Hubbard, Rachel Johnson, and Carol Hubbard.
Photo Credit: Jeff Woodward