What about the Kids? Substance Use Treatment and Recovery in Families
Featuring Karen Gould, LICSW and Dianna Christmas, MPH of the Institute of Health and Recovery in Cambridge, MA
Each fall, Kurn Hattin Homes presents our Annual Professional Development Conference, bringing special guest speakers and mental health experts to our Southern Vermont campus, to speak on a variety of current topics relevant to human service professionals. This year, we are proud to welcome guest speakers Karen Gould, LICSW and Dianna Christmas, MPH of the Institute of Health and Recovery in Cambridge, MA. These engaging co-presenters will share their expertise on the effects of substance use and addiction on families, as well as strategies and resources for effectively helping to guide families toward recovery.
The workshop takes place Friday, October 24, 2014 and offers five continuing education credits, as well as networking opportunities and support for counselors and therapists, social workers, educators, and others working in the field of child and family services.
Empathy as the Key to Helping Families with Substance Use Disorders
In a recent interview, Gould and Christmas gave us a preview of one of the key aspects of their upcoming talk—the importance of starting with a foundation of empathy and understanding when working with family members suffering from and affected by the disease of addiction.
"When we begin working with a family, we are asking them to trust us with no prior experience or evidence that we are worthy of that trust," says Dianna Christmas. "We have to start by understanding the whole picture and how everybody got there before we can even begin to help."
The following is a summary of our interview with Karen Gould and Dianna Christmas. Read on for more from these two respected resources on the subject of substance use treatment in families.
The first step: building an authentic relationship
In order to help, we need to first understand that the relationship is primary, and the service is secondary. Our clients need to feel safe and know that we are there for them, and this often means starting out slow. We can begin to develop an authentic relationship by finding out what is important to that family or that parent and asking them to help us understand their unique situation.
Especially when children are involved, there's often a tendency to lay blame on the parents and say, "Come on, get it together. Your kids are struggling. Clean up your act for their sake." But we know that this kind of confrontation and putting people in a box doesn't work. It's much healthier and works better when we don't come in with all the answers, but instead we invite the client to help us understand where they are coming from. We need to ask, "What do you want / need from me?" and really listen to the response.
Understanding the nature of addiction
Part of our workshop will focus on understanding the disease of addiction, what that model looks like, and how someone gets there.
Addiction is not a choice or a life goal. The single most reliable indicator of risk for future substance use problems is FAMILY HISTORY (genetics). Whether a person decides to use alcohol or drugs is a choice, influenced by their environment–peers, family, and availability. But, once a person uses alcohol or drugs, the risk of developing an addiction is largely influenced by genetics. This not a moral issue, not a matter of choice or a lack of willpower. It's just that some people's bodies genetically respond to the effects of alcohol and drugs differently.
The majority of people get involved in substance use because of prior circumstances. Most of us have enough positive experiences in our lives that we don't feel the need to go down that path. But there are many who don't have those motivating factors to help them stay clean. Whatever has led them to substance use—whether it's family circumstances, poverty, abuse, lack of education, an absence of past successes, or a low sense of self-worth brought on by other factors—using becomes a form of relief, and for some, the only way to put one foot in front of the other.
When we look beyond the substance and find the person, we see that pain. We can help by building empathy for our clients, by listening and understanding why they got involved in substances, and what the substances do for them.
Defining roles and accepting limitations
It's important to know our own capacity and to recognize the strengths we bring, as well as where our limitations are. This is not our job alone; it's a partnership. We need to understand where our client is coming from, to develop that alliance with them, and to figure out how we can best participate in the process.
Maybe our preference is to work with just children or just adults, for example. We have to ask ourselves, "Do I have any preconceived notions that I need to deal with as a provider so that I can move forward?" "What is the scope of my role?" and "What can I offer given my limitations?"
Setting realistic goals
In order to do this work, we have to acknowledge that we are just one link in the chain that helps people move from addiction to recovery. We aren't likely to see a large amount of progress or anything close to recovery. The change we see may be very small. If we are lucky, we'll see the light bulb go on that tells us the client is considering the possibility that they might have a problem. That is our success. It's the next person that comes into the client's lives who will help move the client to the next step along the journey.
The bottom line is, as providers we do not have to feel that we are the ones who have to save the day. All we have to do is give it another day.
Setting a tone of possibility
As human service workers, or as human beings in general, we often don't realize the impact we can have on another individual just from a simple interaction. Even a smile or a "hello" could be an important acknowledgment for someone who feels like the rest of the world is not acknowledging them.
When we ask, "How are you doing?" "Are you getting enough to eat?" "How is your baby?" and we really listen to the response, offer affirmation, and give encouragement, we allow others to recognize, "I'm worth someone saying hello to me, encouraging me, listening to me."
Building that self-affirmation sets the tone for our clients to see possibilities for themselves. That's what keeps that door open and allows our work, and theirs, to continue.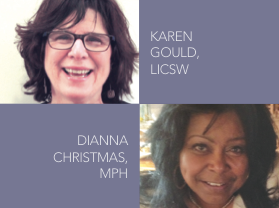 Please join Karen Gould and Dianna Christmas at Kurn Hattin's Annual Fall Conference, Friday October 24.
Karen Gould, LICSW is the Director of Early Childhood Trauma Services at the Institute of Health and Recovery (IHR) (http://www.healthrecovery.org/). Her work is focused on issues of traumatic stress in children whose parents are in recovery from substance use and co-occurring disorders. She directed Building Resilience through Intervention: Growing Healthier Together (Project BRIGHT) for IHR, a program that addresses traumatic stress in young children and their parents in recovery from substance use disorders. Ms. Gould has also been the director of the Families Living Together Project and the Women Embracing Life and Living (WELL Child) Project. She has extensive experience leading local and national trainings on the impact of trauma on children and their parents. Ms. Gould also has a private practice and serves as a consultant to the Boston and Lynn Public Schools.
Dianna Christmas, MPH, has extensive experience in the areas of substance use disorders, parenting, HIV/AIDS, and maternal and child health including 30 years working in behavioral health and social services with women and children. Most recently, Ms. Christmas has served as the Parent-Child Services Coordinator for the Institute for Health and Recovery in Cambridge, MA. Her work focuses on the parent and children's services component, where she co-facilitates parenting groups for families in substance use treatment and recovery as well as provides local and national trainings on substance use disorders, child development, and parenting issues.