Gwen, a current Kurn Hattin 6th grader, entered a recent drawing and was the lucky recipient of "Palomita," a handmade doll from Peru with a very special story to tell.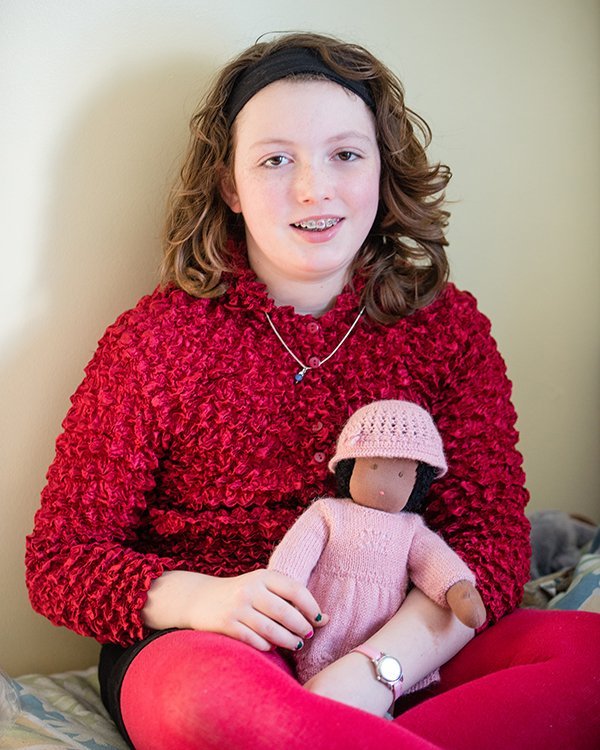 Photos: Jeff Woodward Photography
Gwen and Palomita will be featured in an upcoming documentary by local educator Teresa Savel. Teresa and her camera crew visited campus last week to film Gwen and Palomita's first meeting.
As an early childhood educator involved in humanitarian work, Teresa Savel says she always felt a certain pull as she drove past the campus of Kurn Hattin Homes for Children on her way home in nearby Westminster West, Vermont. "I knew that Kurn Hattin does great things for children, and I had always wanted to reach out and make a connection," she said, "But I wasn't sure what that connection could be, until now."
Now well established, the connection reaches from the campus of Kurn Hattin Homes for Children, a Vermont residential and day school for young children in need, to the small village of Andahuaylillas in the Andes Mountains of Peru, where a group of local women work to create beautiful handmade dolls, which are then sold to support the livelihoods of the women and their families.
Having made the long journey from the Andes to the hills of Westminster, Vermont, one of these dolls, "Palomita," is now settling in nicely with the other stuffed animals in Gwen's cozy cottage room. Gwen described her reaction to winning the drawing, "When they called my name at lunch, I couldn't believe it, I was so overwhelmed!"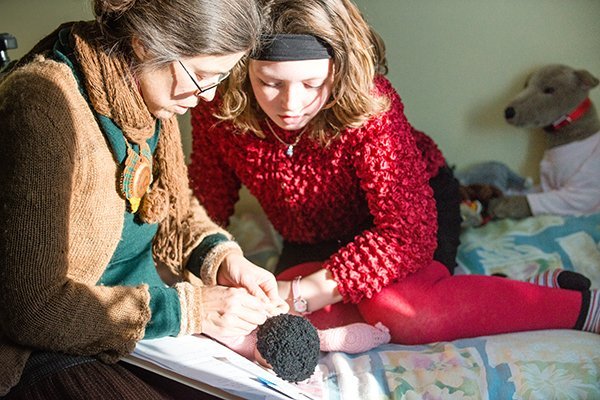 Teresa Savel says she wanted to include a Kurn Hattin child in her film project, in part because of the parallels she sees between the kind of work being done at Kurn Hattin and at the Q'ewar Project, the organization in Peru that creates the dolls.
Started in 2002 by Julio Herrera and Lucy Terrazas, Q'ewar is a social work initiative that helps indigenous women to break the cycle of poverty and sets them and their children on a path to a brighter future. Teresa learned about the Project several years ago when purchasing dolls for the early childhood program she ran in Westminster, and has been involved in supporting Q'ewar's efforts ever since.
Read more about the Q'ewar Project on the organization's website.
Teresa notes a number of similarities in the missions of Q'ewar and Kurn Hattin, in particular in that both organizations focus on supporting children and families in need in order to effect social change and bring about lasting positive impact. "It's the seed," she says,"Both organizations are planting and nurturing seeds so they can grow into flowers. Then they continue to support that growth, so that there can be more seeds, and the cycle can continue." She adds that both Kurn Hattin and Q'ewar bring together individuals who may have experienced hardships such as poverty, hunger, or abuse. Coming together, those individuals learn that they are not alone, and find great strength in supporting and connecting with one another and being part of a healthy community.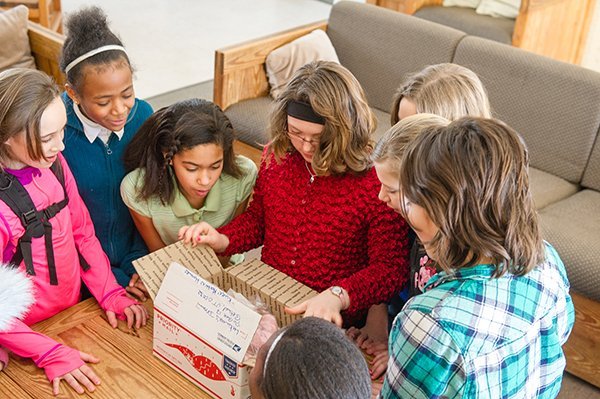 "We're so fortunate–and the children are fortunate–to have a place like Kurn Hattin still in existence," she added. We are sure that Palomita will be very happy in her new home with Gwen. Thank you Teresa, for bringing Palomita, Gwen, and their two worlds together!