Kurn Hattin Basketball Team Remains Undefeated
Westminster, VT – On Thursday, January 31, 2013, the undefeated Kurn Hattin Basketball team played their last home game of the season against Putney School. Both teams had something to prove. Putney wanted to show that basketball was not all about height and Kurn Hattin wanted to remain undefeated. Kurn Hattin came off the bench scoring and scored an impressive 20 points in the first quarter. Putney was not as quick off the bench but warmed up and outscored Kurn Hattin in the second quarter. Team fouls were down for both teams and both used 7 players to help score. Kurn Hattin scored a record high of the season with 79 points. Putney scored 54 and its leading scorer was Adam Newton #1 with 27 points. Kurn Hattin's leading scorers were Jahyde Bullard #3 with 28 points and Chris Hopkins #14 with 18 points.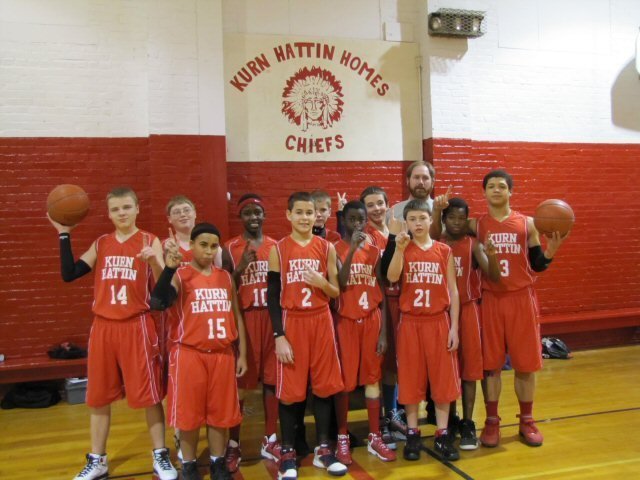 Kurn Hattin and Putney may face each other again in the playoffs which start February 9th at 9a.m. at Westmoreland. Kurn Hattin is 12-0 undefeated and seeded #1 and Putney School is seeded #5. Kurn Hattin still has two tough road games left this season. Pictured is the Kurn Hattin basketball team, who played on January 31, with their coach, Frank Patterson. Come and support our local teams!