Kurn Hattin Celebrates 21 Graduates
June 12, 2019
On Saturday, June 8, 2019 twenty-one 8thgraders graduated from Kurn Hattin Homes for Children in a joyous and emotional ceremony. Graduation proceedings began with an opening welcome from Board President, Mark Bodin and an Invocation from houseparent Clint Plante. Salutatorian Alex Lowe III, then spoke to the audience and his fellow graduating classmates asking them to "accept your mistakes instead of rejecting them, but NEVER let them define who you are."
Several students received one or more awards which included: The Good Citizenship Award, for the student who is most helpful and cooperative with other students- Nicholas Passos; The Vosburg Award, for the student who has shown progress- Deja Nasta; The Peter Harrison Grohs Memorial Award, for male student showing the best adjustment to Kurn Hattin- Tristan Caroll; The Vivian Prindl Memorial Award, for the female showing the best adjustment to Kurn Hattin- Amaya Jordan; The Suitcases Award, for an 8thgrader who shows outstanding progress- Chan Dowang and Catrina Greene; The Maiola Athletic Awards, for all-around athletic excellence-Jacob Baltazar and Izabella Murphy; The Woodhull Music Awards: Choir Award- Tia Willis-Cooper, Jazz Band Award- Chan Dowang, Most Overall All Talented Award- Nicholas Passos and Izabella Murphy; and the Instrument Award- Nicholas Passos. The Massachusetts Board of Directors' Excellence in Writing Awards- Alex Lowe and Lillianna Butler; The Alumni Association Awards, for the students who embody the spirit of Kurn Hattin through their kindness to others and participation in campus life- Nicholas Passos and Lillianna Butler; The Eleanor Ward Achievement Award, for the 8thgrader showing the greatest improvement- Chan Dowang; The John P. Barry & Christopher W. Barry Award- Elizabeth Anderson; The W.I. Mayo Memorial Award-Tia Willis-Cooper; The Robert P. Hubbard Memorial Scholarship Award, for a student who has an aptitude for art, literature, or writing- Nicholas Passos; The Vincenzo James Ruggiero Memorial Scholarship Award- Jacob Baltazar and Catrina Greene. Three Kurn Hattin alumnae were awarded the Thomas G. Fahner Scholarship Award: Lyssa Jackson, Class of 2008, Sairy Bernardez, Class of 2014, and Rebekah Rounds, Class of 2015.
Trustee Emerita, Elizabeth Maiola, was given the Trustee Emerita's Special Recognition Award.
Valedictorian Lillianna Butler gave the Farewell Speech, in which she stated that she has been part of the Kurn Hattin community since she was seven years old. "My time here is a tremendous part of who I am, and who I hope to become," she said. Diplomas were then presented by Principal Sergio Simunovic, and Board President Mark Bodin, and Acting Alumni President, Heather Kampfer inducted the graduates into the Alumni Association. After graduating, many of the students stay on campus for the summer program and then will rejoin their families and attend their local high schools in the fall. Others will move on to attend other private residential schools with a similar mission.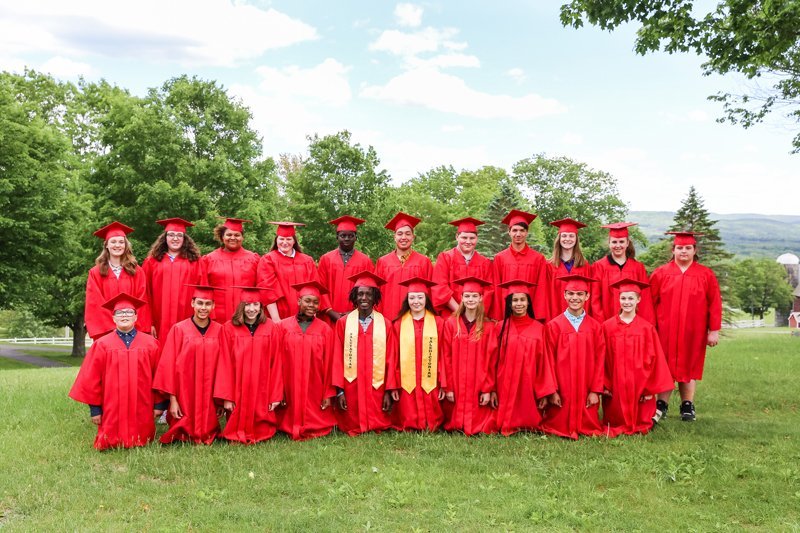 Congratulations to the Kurn Hattin Class of 2019! Back from (L to R): Mya Lynn Fifield, Tia Mae Willis-Cooper, Mikayla Evelyn Bruce, Kelsea Rebekah Smith, Chan Deng Dowang, Jakobie Alexander Graves-Amidon, Kevin Wayne DeKalb Jr., Jacob Stone Baltazar, Cassidy Alexis Star Martin, Morgen Lynn Goss, and Aurianna Amaris Smith. Front from (L to R): Alixzander Speckert-Ring, Gabriella Janae Taylor, Izabella Arbritia Murphy, Janiyah Diamond Jackson, Alex Wayne Lowe III, Lillianna Grace Butler, Catrina Marie Greene, Nadia Lynette Taylor, Nicholas Anthony Passos, and Alexia Anne Murray.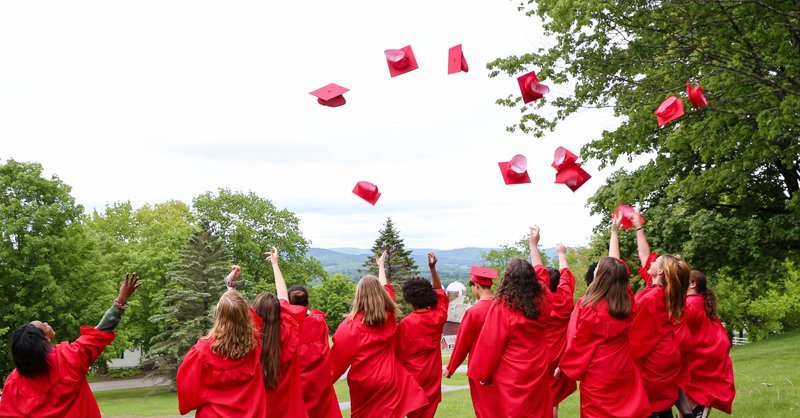 Photos by Kristie Lisai