Kurn Hattin Celebrates Red Ribbon Week
October 27, 2011 | WESTMINSTER, VT.-The Kurn Hattin children take Red Ribbon Week seriously every year. Red Ribbon Week is the nation's oldest and largest drug prevention program in the nation.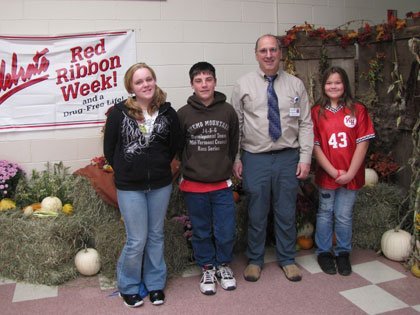 PHOTO CAPTION: Doctor Jeffrey Bianconi, from Rutland Regional Medical Center, with some of the 4th-7th graders who attended his presentation on Seatbelt and Helmet Use.
By wearing and displaying red ribbons and participating in anti-drug events, the children pledge to live a drug-free life and pay tribute to DEA Special Agent Enriqué "Kiki" Camarena. Special Agent Camarena was an 11-year veteran of the DEA assigned to the Guadalajara, Mexico, office where he was on the trail of the country's biggest marijuana and cocaine traffickers. In 1985, he was extremely close to unlocking a multi-billion dollar drug pipeline when he was killed by Mexican drug traffickers. His tragic death opened the eyes of many Americans to the dangers of drugs and the international scope of the drug trade. More than 80 million people participate in Red Ribbon events each year. Kurn Hattin celebrates Red Ribbon Week by having essay, poster and costume contests, decorating buildings with red ribbons and by publicizing the value of a drug-free, healthy and safe lifestyle. Kurn Hattin Homes is a residential, year-round, charitable home and school for in-need and at-risk children, ages 6-15, from throughout the Northeast.
Kurn Hattin is a charitable, year-round, residential home and school located in Westminster, Vermont serving in-need and at-risk children, ages 6-15, from throughout the Northeast.