Kurn Hattin Celebrates Vermont Agriculture
June 15, 2011 | Westminster, Vermont–The Kurn Hattin children are learning all they can about agriculture in Vermont.
From planting and the experiential farm activities on campus, to participating in the Strolling of the Heifers parade, the children are experiencing first hand what it takes to get the food they eat. To wrap up the school year, the children celebrated Cow Day on June 6th. Some of the younger children dressed in theme and they all spent time at different stations either working with the horses, planting crops with Farm Manager, Pat Barry, or with the UVM 4-H instructor in soil exploration and analysis. Every year at graduation, one of the children receives an award for the greatest aptitude in the field of agriculture. It's quite an honor.
Kurn Hattin Homes is a residential, year-round, charitable home and school for in-need and at-risk children, ages 6-15, from throughout the Northeast.
Photo caption: Children in Ann Hadley's 4th & 5th grade class dressed as cows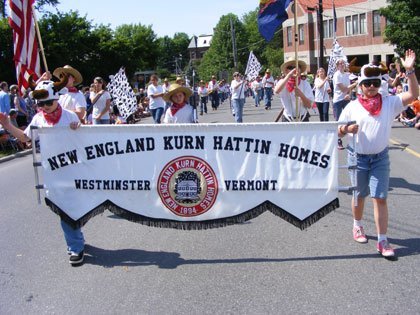 Photo caption: Kurn Hattin Homes' Marching Band at Strolling of the Heifers