Kurn Hattin Celebrates Volunteer's 80th Birthday
December 21, 2011 | WESTMINSTER, VT.-Janet Wilson of Walpole, NH a long-time devoted Kurn Hattin music program volunteer and trustee gasped when she came into the dining hall for lunch on December 19th.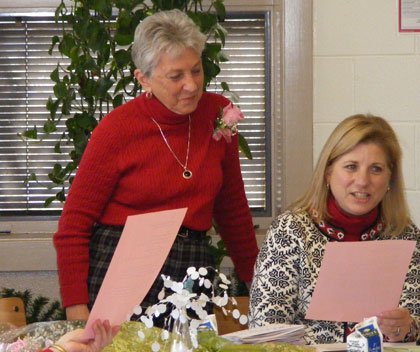 Pictured: Kurn Hattin Homes' music program volunteer and trustee, Mrs. Janet Wilson with her daughter, Rennie Washburn at Janet's surprise 80th birthday party.
Posters, banners, cake, singing and many of her family were there to great her and wish her a happy birthday. Though her actual birthday isn't until the 25th, it's never too early to start the celebrating. It was her niece in Portland, Oregon whose idea was to have a surprise party. So she organized the family and ordered the cake. The children played music and sang songs that Janet tirelessly worked with them on in music class. They also sang a special Mrs. Wilson's 80th Birthday Song to the tune of Jingle Bells. Volunteers make a big difference in a school and home setting such as Kurn Hattin's. Janet has made a big impact in both the quality of the music program and the children's love and success in music. We love you Janet Wilson. Happy Birthday! Kurn Hattin Homes is a residential, year-round, charitable home and school for in-need and at-risk children, ages 6-15, from throughout the Northeast.
Kurn Hattin is a charitable, year-round, residential home and school located in Westminster, Vermont serving in-need and at-risk children, ages 6-15, from throughout the Northeast.