Kurn Hattin Celebrates Volunteers
March 16, 2012 | Westminster, Vermont – Kurn Hattin Homes held its Annual Volunteer Recognition Banquet on March 15 to honor the many people who volunteer at the Homes. The team of dedicated volunteers helps with governance, school, sports, music and special events.
Volunteering is quite often the high point of the volunteers' day. The children know that they are fortunate to have someone interested in them. "Kurn Hattin is blessed with over ninety volunteers that dedicate their time, talents and care for our children in a variety of programs. Their positive impact on our campus is huge. Gandhi wrote 'You must be the change you wish to see in the world.' Our volunteers help make that change happen one child at a time," remarked Tom Fahner, Deputy Director.
Every year, the Kurn Hattin volunteers are recognized at a special dinner in their honor. Hats off to all of you who volunteer at Kurn Hattin Homes. Bill Abbott, Laurie Alberts, Donna Aldrich, Shari Gladman Baker, Jerry L. Bardwell, Julie Barry, Carol Bazin, Diane Bazin, Jeff Bianconi, Sue Bingaman, Carolyn Blake-Deyo, John Bohannon, Bill & Barbara Brackett, Gary Carrier, Fran Cheslock, Edward Clark, Sheriff Keith Clark, Pat Crotty, Marion Daley, Gordon Dansereau, Jamie Dansereau, Edward Dinnany, Tim & Brenda Eno, Tom & Donna Fahner, Carol Failla, Sarah Fonseca, Justin & Shannon Fuller, Chris Goding, Jacky Goodrich, Father Lance W. Harlow, Elizabeth & Mike Henry, Elizabeth Hickin, Randal Hickin, John Hubbard, Tim Janis, Carol Johnson, Charles P. Kelsey, Dean and Susan Kinville, Jon Korpela, Adam Lansberry, Richard Long, Reverend Sami Macrae, Anthony & Elizabeth Maiola, Jackie Mallory, Rick Manson, David Maysilles, Walter Menzel, Sally Motzer, Sally & Merrill Mundell, Joseph & Keri Newton, Sue Nostrand, Michael Obuchowski, Sara & Ben Olson, Virgina Onorato, Hugh Perkins, Mary Kay Pfadenhauer, Ann Reed Prager, Mrs. Frank J. Prindl, Jasmin Queen, Karen Rumrill, Carmen Sanderson, Tina Smith, Susie Smith, Judy Spinella, Annette Spaulding & Patrick Madden, Malcolm Streeter, Scotty Tabachnick, Susan Tidlund, Matt Tomberg, Brenda Turner, Vern & Roberta Violette, Trudy Walker, Gary West, Ron & Pat Williams, Janet Wilson, Larry & Bette Wunderle. We can't thank you all enough.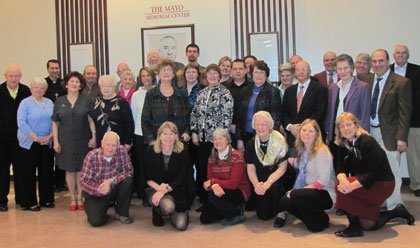 Photo caption: Volunteers attending the 2012 Kurn Hattin Homes' Volunteer Recognition Dinner.
Kurn Hattin Homes is a year-round, charitable home and school for in-need and at-risk boys and girls, ages 6-15, from throughout the northeast.
Contact: Kim Fine
Kurn Hattin Homes
PO Box 127
Westminster, VT 05158
Tel: (802) 721-6914