Kurn Hattin Children Go To D.C. For Youth Leadership Summit
July 19, 2012 | Westminster, VT – Kurn Hattin Home provides children opportunities they would not have otherwise. Being able to go to our nation's capital is certainly one of those opportunities and one that remains in a child's memory for life.
From June 22-25, six children and their principal and residential director boarded the blue Kurn Hattin bus and traveled to Washington D.C. to participate in the first annual National Fellowship of Child Care Executives (NFCCE) Youth Leadership Summit. Twenty-five children from seven children's homes around the country participated in the leadership workshops and historical and cultural sight seeing. The days and nights were full of discussion and enriching activities. They saw for themselves the great Memorials, Arlington Cemetery, the museums, The National Archives, and The U.S. Capitol Building that they had only seen and read about in their school books and on the Internet. They were challenged with questions and mottos: Be the change you want to see in the world; How badly do you want to succeed?; Your future is not yet written.; and How will your story end? The Kurn Hattin children know well that if life brings you down, you need to pick yourself up and keep going. This experience further reiterated that and encouraged them to never let anyone make them lose their vision and their goals; to be leaders and to do the right thing. Valedictorian, Scarlett Stanhope reflected after her return, "I felt like I was stepping into other people's shoes, like Martin Luther King, Jr. or one of the many of the presidents. I also realized that Vermont is just a small part of the world and even though we are all living different lives, we are all the same. Every little thing counts and if we all work together, we can do something great." Thank you to everyone who supports Kurn Hattin and field trips such as this one. Kurn Hattin Homes is a charitable, residential, year-round home and school for in-need and at-risk children, ages 6-15, from throughout the Northeast.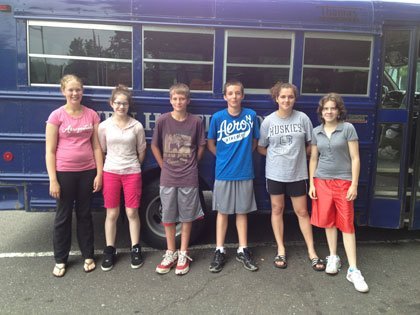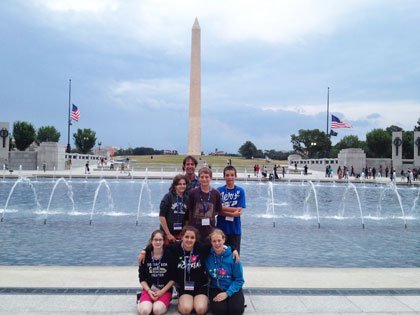 Photo caption:
Pictured in front of the blue Kurn Hattin bus before it left for the NFCCE Youth Leadership Summit in Washington DC are Chelsea Candello, Scarlett Stanhope, David Curtis, Logen Dion, Breanna Collins and Andrea Turner. In front of the Washington Monument, Principal, Scott Tabachnick joins them.
Kurn Hattin Homes is a year-round, charitable home and school for in-need and at-risk boys and girls, ages 6-15, from throughout the northeast.
Contact: Kim Fine
Kurn Hattin Homes
PO Box 127
Westminster, VT 05158
Tel: (802) 721-6914