Kurn Hattin Children Honor Veterans
November 14, 2011 | WESTMINSTER, VT.-The Kurn Hattin children coordinated by their social studies teacher, Richard Long, honored Veterans' Day with a special program with several veterans and patriotic groups in attendance.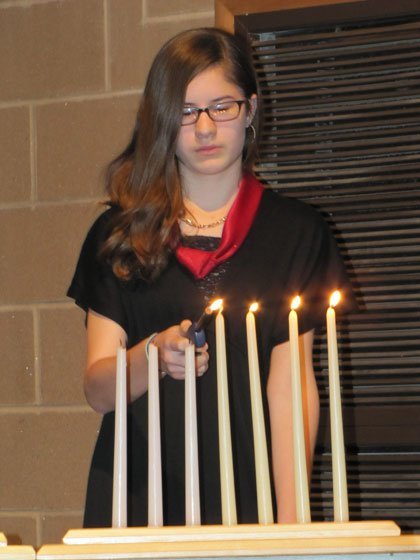 PHOTO CAPTION: Scarlett Stanhope
Following the Presentation of Colors, A Call to Colors and a Moment of Silence, Taps was played by students, Scarlett Stanhope and Jahyde Bullard. Then the Kurn Hattin Cub Scouts Troop #401 and Brownie Troop #2483 led the audience in the Pledge of Allegiance and Father Lance Harlow, of Burlington and formerly of Bellows Falls, gave the Invocation. The Lighting of Candles was a very special presentation remembering the fallen Vermont soldiers in Iraq and Afghanistan. Forty candles were lit by student, Scarlett Stanhope during the reading of each soldier's name.
Chris Barry, Executive Director welcomed the guests and shared a story of personal loss and then sixth grader, Susanna Compare read a poem called Veteran by Lynn Carey. The Select Beginning Choir sang, "A" is for America. Captain Christopher A. Day, Vermont Army National Guard and Assistant Principal at Brattleboro Union High School gave a moving speech about everyone, including the family, who sacrifices. Before the Veterans' Day event, the Kurn Hattin Cub Scouts and Brownies went to the Westminster cemeteries and collected the old flags. They presented the flags for retirement. After this presentation, two students read their VFW Patriot's Pen Essays and the Kurn Hattin Select Choir sang, Dona Nobis Pacem and They Dared to Dream. Father Lance Harlow's Benediction and the Retirement of the Colors concluded the program and the guests were treated to a special luncheon.
Kurn Hattin is a charitable, year-round, residential home and school located in Westminster, Vermont serving in-need and at-risk children, ages 6-15, from throughout the Northeast.