Kurn Hattin Children's Choir Gets Encore with Natalie MacMaster, Lights Up the Holidays at the Vermont State House
For the second year running, the Kurn Hattin Children's Select Choir has been invited to join Grammy-winning fiddler Natalie MacMaster on stage for her "Christmas in Cape Breton" concert. Kurn Hattin Music Director Lisa Bianconi has chosen 26 out of the 64-member advanced choir to perform in the concert, which takes place at the Latchis Theater in downtown Brattleboro, Vermont on Friday, December 6 at 7:30 PM.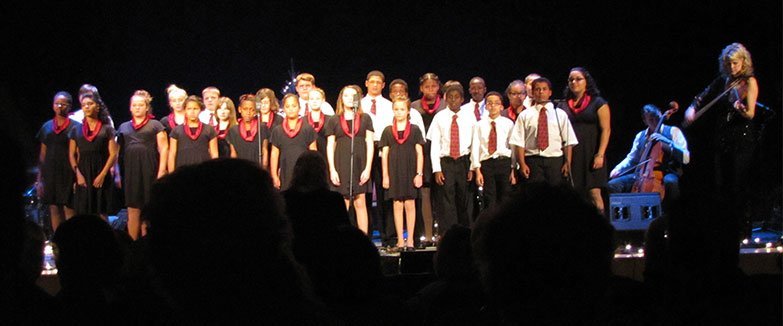 Photo: Natalie MacMaster with Kurn Hattin Choir at Bellows Falls Opera House, November, 2012
Last year, concert producer and filmmaker Jay Craven of Kingdom County Productions selected Kurn Hattin's choir to perform several songs with MacMaster at the Bellows Falls Opera House. In preparation for the upcoming performance at the Latchis, MacMaster's staff contacted Kurn Hattin Homes directly to request an encore appearance from the children. Craven, who is producing the Latchis show commented, "During this holiday season, the addition of the Kurn Hattin children reminds us of the artistic riches available in our own communities, the vitality of young people, and the importance of helping others."
The Kurn Hattin Children's Choir will also provide the musical backdrop for this year's Governor's Christmas Tree Lighting Ceremony at the Vermont State House. The ceremony takes place Thursday, December 4 from 4:30 – 6:30 PM at the State House building steps in Montpelier. The tree lighting will be followed by a reception in the State House foyer.
2013 has been a banner year for the Kurn Hattin music program. In addition to these accolades, the Select Choir won Top Performer in the gospel category in public television member station WGBY's "Together in Song" choral competition. Music Director Lisa Bianconi is currently one of 25 semifinalists, selected from 30,000 nominations, for the first-ever Grammy Music Educator's Award. The ten finalists will be announced on December 6.
For information on Natalie MacMaster: http://www.nataliemacmaster.com/
For information on the Latchis Theater: http://theater.latchis.com/events/
For information on Kingdom County Productions: http://www.kingdomcounty.org
Tickets for Natalie MacMaster's "Christmas in Cape Breton" are available by phone at (888) 757-5559; online at KingdomCounty.org.
The Natalie MacMaster concert is presented by Kingdom County Productions and Marlboro College with generous sponsorship support from the Brattleboro Savings and Loan, Brattleboro Retreat, Blue Cross Blue Shield of Vermont, Community National Bank, and Phil and Marcia Steckler. Additional support is also provided by the Vermont Arts Council.
Established in 1894, Kurn Hattin Homes for Children in Westminster, Vermont is a charitable home and school for boys and girls, ages 6-15, who are affected by tragedy, social or economic hardship, or other disruption in family life. Its mission: Kurn Hattin transforms the lives of children and their families forever.