Kurn Hattin Children Share in the Holiday Spirit of Giving
WESTMINSTER, VT― It was another festive holiday season filled with the spirit of giving at Kurn Hattin Homes for Children. Tim Mollica of Christmas Trees of Vermont and his family donated eleven trees, hand-picked by the children. The children and staff put on their holiday sparkles and finery for the very special Annual Night of Giving dinner. In the months leading up to this event, the children in each cottage selected a Christmas giving project to help those in need.
On the evening of the dinner, a child from each cottage presented their chosen community service project, explaining why it was selected, and how it made a difference. Among several projects chosen by the nine cottages were: raising money for the Dana-Farber Institute in memory of the school's late Principal, Tom Fahner; the gift of time: visiting, singing, and socializing with nursing home residents; and food drives for the local food shelf. Later that week, all of the Kurn Hattin staff and children spread good cheer by caroling throughout Bellows Falls, Vermont and Walpole, New Hampshire. The children also had their own cottage Christmas parties, with frosted cookies, eggnog, and singing before leaving for vacation.
The Chester Rotary Club coordinated volunteers, gifts, donations, and pizza to make Christmas truly magical. Santa, Mrs. Claus, Mr. Grinch, and an entourage of elves went from cottage to cottage with a giant sack of presents. Squeals of glee accompanied the tearing of paper, and the children smiled and hugged Santa and Mrs. Claus as they expressed their gratitude. A Holiday Bazaar with items generously donated by friends, staff, and parents, was held on the last day of school, followed by a special holiday concert. Thanks to all who contributed by helping to bake some yummy sweets, and by participating in the Bazaar. The Kurn Hattin staff and students wish you all a very, merry holiday season.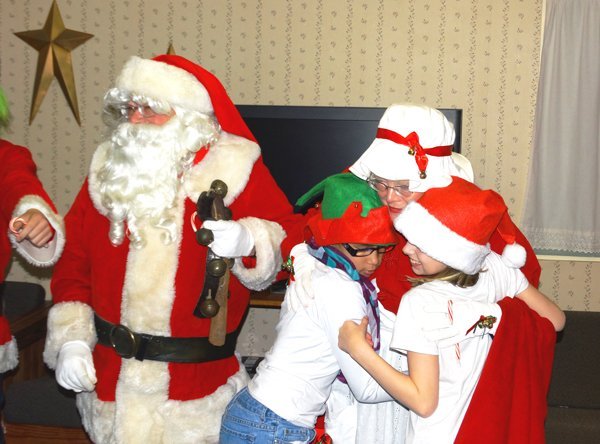 Photo Caption: Santa and Mrs. Claus receive a thank you hug from the Kurn Hattin girls.