Kurn Hattin Children Share the Stage with WSO
WESTMINSTER, VT— At Kurn Hattin Homes' Higbie Auditorium on November 1st, Maestro Hugh Keelan and the Windham Symphony Orchestra, along with students from Kurn Hattin Homes for Children, joined forces to present "Resounding Hills: A Transformative Musical Collaboration".
The partnership was sparked when Keelan visited Kurn Hattin Homes last year and met with the school's music program director, Lisa Bianconi. "Hugh and I discussed a collaborative effort that would allow our students exposure to different kinds of music," Bianconi said. "This concert is about transformation; the Orchestra is embracing our students, and our students are embracing them, combining our two worlds to create beautiful music. After the last note is played, we want the audience and the performers to be in awe and want more."
The concert program featured a blend of instrumental and choral pieces, especially arranged by Keelan for the collaboration. The choral selections for the Kurn Hattin Select Choir reflected a deeply soulful and spiritual self-examination of the inner world and life experiences of the Kurn Hattin children; a musical journey of despair, sanctuary, healing, and ultimate joy. The music ranged from a composition by a Kurn Hattin student set to the music of John Lennon's "Imagine" to Paul Simon's "Bridge Over Troubled Water and gospel favorites such as "Amazing Grace". The Kurn Hattin Concert Band joined the Orchestra on stage to share a moving interpretation of "What a Wonderful World".
For their part, the Orchestra explored territories far and near, revealing a rich and colorful historical landscape through the music. The selections featured the long lost compositions of a little known renaissance man from Brattleboro; postmaster, lawyer, and dentist Frederic Palmer (1814 – 1886), responsible for inventing adhesive stamps. Keelan selected a series of 1844 Social Waltzes that Palmer had written for social dances in town, including parts played on an Estey Organ and a toy piano. The Orchestra also played Bach's Brandeburg Concerto No. 2, and concluded the concert with one magnificent piece occupying the whole second half, Tchaikovsky's Symphony No. 4 in F Minor, Opus 36. Written in 1878 during a devastating time of personal crisis, it is widely held to be one of the most complex, exciting, and flawless pieces of music. Keelan described how inspiring it was to see the love of music and performance in the Kurn Hattin children.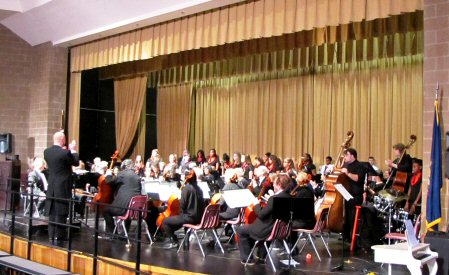 Established in 1894, Kurn Hattin Homes for Children in Westminster, Vermont is a charitable, year-round home and school for boys and girls, ages 6-15, who are affected by family tragedy and social or economic hardship. Kurn Hattin Homes transforms the lives of children and their families forever.