Kurn Hattin Executive Director Retires
September 17, 2012 | Westminster, VT– After 40 years at Kurn Hattin Homes, 15 of which were as Executive Director, Christopher Barry has retired. His staff, family and former students sent him off after a splendid dinner celebration on Friday, September 14.
Pictured is Chris holding a license plate presented to him by his brother, Steve who works in Maintenance at the Homes. Steve kept the plate which had been on a car of former Executive Director, David Maysilles. Many heartfelt parting words and stories were shared. No matter what issues arose throughout his tenure, Chris always kept the welfare of the children 'number one'. And this he imparted to his successors. Connie Sanderson is Kurn Hattin Homes' Acting Executive Director and Deputy Director, Thomas Fahner will take the reins later this year. Founded in 1894, Kurn Hattin Homes in Westminster, VT is a charitable home and school for children, ages 6-15, who have been affected by tragedy, social or economic hardship, or other disruption in family life. For more information visit: http://www.kurnhattin.org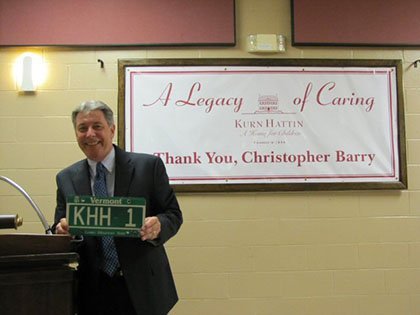 Kurn Hattin Homes is a year-round, charitable home and school for in-need and at-risk boys and girls, ages 6-15, from throughout the northeast.
Contact: Kim Fine
Kurn Hattin Homes
PO Box 127
Westminster, VT 05158
Tel: (802) 721-6914