Save the Date!
Kurn Hattin Homes for Children's 22nd Annual Professional Development Conference will be held on October 25, 2013
This year's featured speakers, Terry Levy, Ph.D., B.C.F.E. and Michael Orleans, M.A., D.A.P.A., co-directors of the Evergreen Psychotherapy Center and the Attachment Treatment and Training Institute in Evergreen, Colorado, will present an invaluable workshop for parents, teachers, caregivers, counselors, and anyone working with children and families:
Treating Trauma and Attachment Issues in Children and Families

Dr. Levy and Mr. Orlans gave us a preview of their upcoming talk. The following summarizes the first installment of our conversation with these two esteemed experts in their field.
What is 'trauma' in the context of your workshop?
In this context, trauma refers to emotional, psychological, physical abuse or neglect suffered by a child in his or her early years. These harmful experiences can cause a variety of behavioral and psychological problems later on, be it at home or at school.
What are some common symptoms of trauma?
The most common symptoms are depression, anxiety, and stress. Many children suffer symptoms similar to those of post-traumatic stress disorder, such as nightmares or an inability to concentrate. They may have learning issues at school, have trouble controlling their behavior and following rules. In addition, it is also common for them to push parents, caregivers, and other adults away.
What is attachment?
Attachment has to do with the way in which children become bonded to their parents early in life. Secure attachment involves love, protection, need fulfillment, and communication. Anxious or disordered attachment involves some level of trauma.
What kinds of trauma and attachment issues might affect children?
It's normal and natural for all children to defy their parents sometimes. They say no; they test our limits. A caring, effective parent knows how to stay firm and set limits. You stick to "No" when you have to, but you do it in a patient, mature, loving way, so your child doesn't feel hurt, threatened, and isn't made to feel fearful and anxious by your anger.
Most children with trauma or attachment disorders have not experienced that balance of love and limits. They may have been abused, rejected, neglected, or abandoned, and often have grown up in homes where there is drug or alcohol abuse. They didn't learn the early lessons from parents about love, patience, and understanding. They may not have learned the rules of basic socialization.
As a result, they haven't learned that they can trust or rely on adults.
Because in these cases, essential parent-child bonding—attachment—often does not occur early in the child's life, he or she may set up defenses, defying and mistrusting adults in general, and resisting love or affection.
How can we as caregivers, parents, teachers, or counselors best help these children begin to heal?
It is a different ball of wax to provide care and guidance for a "normal, healthy" child who has had a good beginning, as opposed to caring for a child who has not had a good beginning, especially when they are resistant to adult's efforts to show love and care for them.
Helping these children takes a different set of skills. It may require looking at our own tendencies and trying a completely different approach and new strategies to facilitate positive change.
For more information on this topic, please read our next blog: 5 Essentials to Helping Children with Trauma and Attachment Issues and/or click the links below to download the conference brochure or to register for the conference on October 25th. Special early registration rates are available now!
Download a pdf of the conference brochure.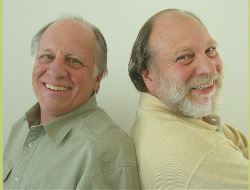 Terry Levy, Ph.D., B.C.F.E., and Michael Orlans, M.A., D.A.P.A., are internationally respected teachers, trainers, and clinicians with an expertise in restoring attachments in children, teens, adults, and couples. Their work has been featured in numerous national publications and TV shows. They are co-founders of ATTACh (The Association for the Treatment and Training in the Attachment of Children) and on the founding Executive Advisory Board of the A.P.A (American Psychotherapy Association).
Dr. Levy and Mr. Orlans are also co-directors of the Evergreen Psychotherapy Center, Evergreen, Colorado, and the authors of Attachment, Trauma and Healing (Child Welfare League of America, 1998), and Healing Parents: Helping Wounded Children Learn to Trust and Love (Child Welfare League of America, 2006).