Kurn Hattin Homes' Benefit Golf Classic 2012
July 16, 2012 | Westminster, VT – The weather was perfect on July 11th for Kurn Hattin Home's Encore Golf Classic at the Keene Country Club.
The golfers, corporate sponsors: Alburg Golf Links/Diane and Luke Bazin, HB Energy Solutions, IPG Employee Benefits, David & Barbara Maysilles, SymQuest Group and Whitney Blake Company; and the hole and other sponsors, all helped to raise funds for the care of the children at Kurn Hattin Homes. After dinner, Christopher W. Barry, Executive Director who retires in September was applauded for his 40 years of service to Kurn Hattin Homes. His family and many of his extended Kurn Hattin Homes' family were there to honor him. $2,000 was raised during the auction in his honor and he was presented a deluxe get-a-way to the Elm Court Estate in Lenox, Massachusetts. The auction alone raised over $9,000.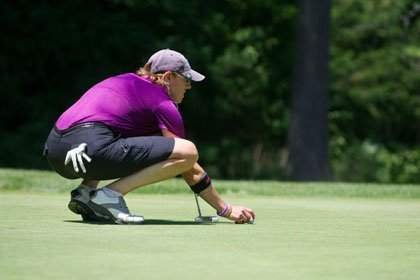 Photo caption: Doreen Durand lines up her shot at the Kurn Hattin Golf Classic. Doreen and husband Steve, owners of Durand Toyota Ford, sponsored the hole in one contest of a 2012 Toyota Camry. Steve is also an Incorporator at Kurn Hattin Homes. Photo credit: Jeff Woodward Photography
First place Gross winners were Doug Lyon, Tom Boggs, Rob Howe, Deb McGrath, Score 61/57. First Place Net winners were Liz David, John Zimmerman, Chris Barry, Deno Mokas, Score 61/54. Second Place Gross winners were Steve Durand, Doreen Durand, Peter Bradshaw, Rick Durand, Score 61/55. Second Place Net winners were Deb Boyle, Sean Long, Kurt Merrill, Ryan Boyle, Score 64/55. Third Place Gross winners were Jim Lynch, Bill Putnam, Dave Therrien, Rich Bowen, Score 63/56. Third Place Net winners were Steve Haldeman, Dave Washburn, Steve Sparks, Rex Morgilioni, score 66/58.

Hole and Putting Contest Sponsors were Durand Toyota Ford, People's United Bank and Savings Bank of Walpole. Men closest to the pin were Steve Haldeman, hole #3, 9 ft. 11 in.; Hardy Merrill, hole #17, 5 ft. 10 in. Women closest to the pin were Deb McGrath, hole #8 21 ft.; and Karin Williams, hole #10, 17 ft. 11 in. Men's longest drive were Deno Mokas, hole # 7 and Kurt Merrill, hole #13. Women's longest drive was Deb McGrath, holes #7 & #13. Congratulations!

Other sponsors were Lake Sunapee Bank, Peerless Insurance Company, Prime Buchholz & Associates, The Richards Group, Sovernet Communications, Sugar River Bank, and UBS Financial Services.

Halladay's Florist provided the registration table flower arrangement, Spaulding and Madden Tax Services underwrote the costs of printing and Ralph Thomas provided the cocktail hour and dinner harp music. Donating raffle and auction prizes and other items were: Adventure Limousine and Travel Services, Alburgh Golf Links/Luke & Diane Bazin, Penelope Arms, Linda Bazin, Beaucage Salon, Blake Hill Farm, Stacey Booth, Brewtopia, Burdick's Chocolates & Café, Ken Burns, The Capital Grill, Colonial Pool, Leah Dee/Forest Heavens, Devine Back & Body Care, Charlie Kelsey, Deborah Kelsey, Elm City Brewing Company, Thea Fahner, The Framery of Vermont, Amy & Les Freeman/Elm Court Estate, Gallery in the Woods, Edward Gordon, Grafton Cheese, Joy Wah Chinese Restaurant, Kristen's Bistro & Bakery, Lake Morey Resort, Lefty Lopez, Marco Polo Chinese Restaurant, Margaritas Mexican Restaurant, Marina on the Water, Archer Mayor, Moonlight Meadery, Francese Mills, Penni Thomas/Penni's Pantry, Peter Havens Restaurant, Prime Roast Coffee Company, The Shoe Tree, Top of The Hill Grill, Tousled, Unbridled Chocolates, Steve Varrieur, Mike Violette, Walpole Creamery Scoop Shop, Walpole Mountain View Winery, Walpole Village Salon, Woodward Designs, Yankee Signs, and Zorvino Vineyards.

A big thanks goes out to all the golfers, corporate sponsors and other sponsors; raffle and auction donors; the Keene Country Club staff, Sheana Rodriquez, Sales and Catering; and Charlie Kamal, Golf Pro and the Pro Shop staff; and all the volunteers for making this event a great success. Stay tuned for 2013: The Kurn Hattin Golf Classic is back!
Kurn Hattin Homes is a year-round, charitable home and school for in-need and at-risk boys and girls, ages 6-15, from throughout the northeast.
Contact: Kim Fine
Kurn Hattin Homes
PO Box 127
Westminster, VT 05158
Tel: (802) 721-6914