Kurn Hattin Homes' Bianconi makes it to top 10 for Grammy Music Educator Award
WESTMINSTER, VT—Kurn Hattin Homes for Children's Music Director, Lisa Bianconi, got the thrill of a lifetime last week when she learned that she is one of only 10 finalists for the inaugural Grammy Music Educator award. Bianconi received the call from the Grammy Foundation while at work on Friday, letting her know the good news and telling her to tune in to the televised Grammy Nomination Concert to watch the official announcement live on CBS Friday night. The 10 finalists, from 10 cities across eight states receive $1,000 and a matching honorarium for their schools. One winner will be flown to Los Angeles to attend the 56th Annual Grammy Awards ceremony on Sunday, Jan. 26, 2014.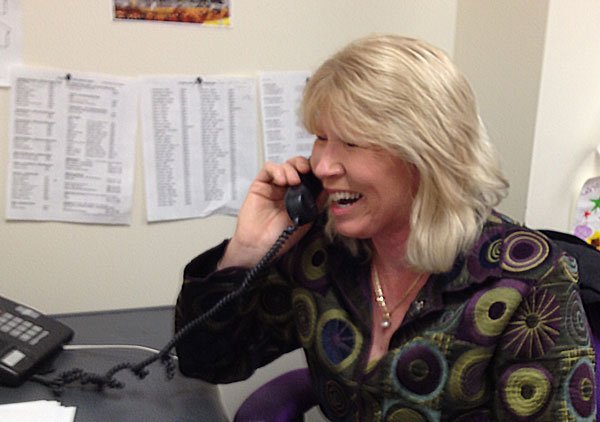 Lisa Bianconi of Kurn Hattin Homes for Children gets the call from the Grammy Foundation
The Grammy Music Educator Award was established to recognize current music educators for "significant, lasting contributions to the field of music education." In total, over 30,000 initial nominations were received from all 50 states. Finalists were selected based on a series of essay and video submissions, including testimonials from nominees' colleagues and students, and footage of actual teaching sessions.
A native of Rutland, Vermont, Bianconi has been the Music Director at Kurn Hattin Homes for Children for the past 28 years. Kurn Hattin is a 120-year old organization, which serves as a charitable home and school for children from disadvantaged backgrounds. It is funded solely by private philanthropic donations. Bianconi is responsible for teaching all general music classes at Kurn Hattin, as well as directing the marching, jazz, and concert bands, and the beginning, select, and advanced choirs. The children perform over 30 public concerts in an academic year, and the school also hosts annual invitational concerts attended by jazz bands and choruses from area schools.
On learning the news that she was a finalist, Bianconi commented, "To think that I can make a difference in a child's life through music is what motivates me. Just last week I received an essay from a current student who is applying to high school for next year. She wrote her essay about me and said 'Mrs. Bianconi never gave up on me. She taught me so many valuable lessons that I will carry with me for the rest of my life.' That makes me feel like a winner already."
Kurn Hattin Homes' Co-Executive Director, Connie Sanderson, who nominated Bianconi for the award, commented, "What a thrill to see Lisa receive national recognition. She is a model for educators all across America. Her devotion to her students and to making a positive difference in their lives make her deserving of an award every day."
Established in 1894, Kurn Hattin Homes for Children in Westminster, Vermont is a charitable, year-round home and school for boys and girls, ages 6-15, who are affected by tragedy, and social or economic hardship. Kurn Hattin Homes transforms the lives of children and their families forever.