Kurn Hattin Homes Celebrates the Holidays
December 21, 2011 | Westminster, Vermont – It is the most wonderful time of the year. The holiday season begins with the children choosing trees for their cottages and the school at and donated by Christmas Trees of Vermont in Springfield.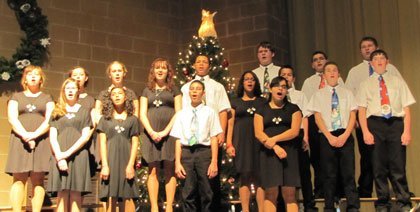 Pictured: Children singing at Kurn Hattin Homes' Christmas Visitors' Day.
See Photo Album on Facebook
A time–honored tradition, the youngest boys and girls celebrate Christmas with the students at Vermont Academy. Among the many who make this time special are the Landmark College students who give the children gifts and Bellows Falls Rotary who treat the children to a movie in town. The children also write letters to Santa and mail them at a very special mailbox for the North Pole. The entire campus is lit up with decorations and heightened enthusiasm.
While singing carols, Santa, Mrs. Claus and their elves along with Mr. Grinch, go from cottage to cottage with a present for each child. This is another much loved tradition thanks to the members of the Chester Rotary Club.
Always an anticipated event, Kurn Hattin's Annual Christmas Visitors' Day starts with a special holiday luncheon followed by a spectacular concert. The jazz band, comprised of children and several dedicated adult volunteers, perform the season's best holiday and contemporary rhythms. This year an alumnus from the Class of 1973 joined the children on stage for a few songs too. There is nothing more heartwarming than hearing children sing. And can they sing! Children really do make the holiday season great.
With all the generous donations during the holidays and throughout the year, the children themselves take time to focus on giving. Night of Giving is a Kurn Hattin tradition in which a representative from each cottage presents his/her Christmas giving project. The children raise funds to donate as a way to give back for all their good fortune. Their support helped those in need in various ways including volunteering and raising money for Toys for Tots, Our Place, the local food shelf, Operation Christmas Child, for children around the world who do not have presents, TARPS Animal Rescue and Protection Society to support the cats and chocolate chip cookie mix for each cottage at Kurn Hattin. Your generosity to Kurn Hattin helps teach the children to be generous.
The finale to the holiday celebrations is Family Day. Parents and family members enjoy a special lunch and holiday concert before the holiday break. This year sixteen graduates also made their way back to the Homes to participate in the festivities.
It's a magical time. Your heartfelt and generous gifts for the children really do make their dreams come true. Kurn Hattin wishes everyone a happy and peaceful holiday season. Thank you for your generosity throughout the year. Kurn Hattin Homes is a year-round, charitable home and school for in-need and at-risk boys and girls, ages 6-15, from throughout the northeast.