Kurn Hattin Homes for Children Celebrates Second Annual Diversity Week
Westminster, VT – Last week Kurn Hattin Homes for Children celebrated its 2nd annual Diversity Week, a 4-day event on Kurn Hattin's campus in Westminster. Featured activities include lectures, presentations, performances, discussions, and workshops focused on diversity-related themes such as the impacts of stereotypes, prejudice, racism, discrimination, class and gender bias, the use of inclusive language, and restorative justice, as well as diversity in art, music, and poetry.
Kurn Hattin's School Principal, Scott Tabachnik, who oversees the Diversity Week coordination, is the former Diversity Coordinator of Brattleboro Union High School and is a recipient of the WORLD OF DIFFERENCE® Institute Teacher Recognition Award, given by the Anti-defamation League New England Region. Tabachnik explains the guiding principles of the event. "Diversity Week gives us an opportunity to consider and discuss the positive aspects of human individuality, as well as to highlight examples of it both here at school and around our country.The overarching aims for our students are heightened self-awareness, empathy for others, and problem-solving skills. Skills they can apply here on campus and beyond."
This year's event kicked off on Martin Luther King Day with an assembly devoted to Dr King's legacy. Throughout the week, local talent shared their time and expertise. Guest presenters and performers included award-winning New England Youth Theater co-founder Stephen Stearns, who worked with students to write and perform an anti-bullying play. Dr. Robert Fay, photographer, poetry teacher, and professor emeritus at Landmark College, presented a lecture and discussion on the Harlem Renaissance. Mike Szostak, Brattleboro School District's Restorative Justice Coordinator, guided students through an introductory restorative justice training, and representatives from the Women's Freedom Center led workshops on healthy relationships. The week culminated with interactive multicultural-themed performances from musical artists Moonlight and Morning Star with Vermont Jazz Center founder Eugene Uman, and percussionist Todd Roach.
Stephen Stearns said of his experience, "Rehearsing the 'Bully Show' with Kurn Hattin students was more than a pleasure for me. I became very attached to my fourteen actors. One student wrote a scene for the play about body image. She had been teased about her weight, as had I. We commiserated about that, then tag-teamed a scene to explore that kind of teasing. It was a release for her and, I believe, exorcised some bullying demons for both of us, and for the audience too. The students fought off fears of doing very personal material about bullying in public and performed fearlessly for an audience of about two hundred. They received a full auditorium standing ovation, and it was well deserved." Eighth grader, Solovei cited the value of the peer-to-peer approach. "Rather than being told by teachers that bullying is wrong, the play gave us a chance to teach our classmates an important lesson about bullying."
A place of hope since 1894, Kurn Hattin Homes for Children provides a safe home and quality education for boys and girls, ages 6-15, whose families are experiencing a time of personal or financial need. Its mission: Kurn Hattin transforms the lives of children and their families forever. www.kurnhattin.org
Notes to the Media: For additional high-resolution photo downloads of Diversity Week, visit Kurn Hattin's online press room.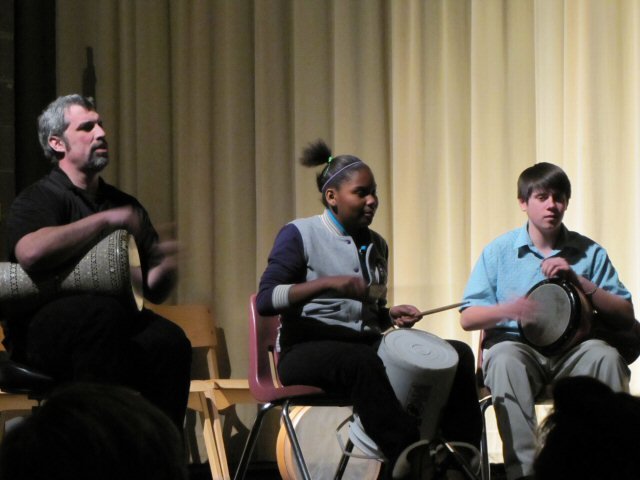 Todd Roach performs world beats with Kurn Hattin students