The values we live by are worth more when we pass them on.
~Anonymous
It's pretty amazing when you stop to think about the number of lives that have been touched by Kurn Hattin Homes for Children over the years.
When horse riding instructor, Suzanne Sheppard, visited campus to teach a horsemanship workshop this spring, she described it this way, "There's a wonderful energy here. It's the result of so many years of helping to bring out the best in children despite their circumstances. This place is truly special. The work you do here is changing generations."
"The work" has been ongoing on this same Vermont hillside for nearly 120 years. It means being there for children and families in times of need, regardless of whether or not they can pay. It means providing a safe, nurturing home and a responsive educational environment that works, and it means helping at-risk kids grow up to lead happy, productive lives … Lives that, in turn, go on to touch others' lives.
Over the years, many family members of Kurn Hattin graduates have reached out to share the ways that Kurn Hattin Homes has touched them personally. Grandparents, parents, and children of those who have attended Kurn Hattin have written or called to express thanks and to let us know that without it, they know their own lives would have been vastly different.
Here are just a few such examples of how over a century of this work has helped to break the cycles of poverty, homelessness, abuse, and neglect, and has made a lasting positive impact in the lives of generations of family members.
John Newill and The Sears Family
Last winter, Kurn Hattin's Co-Executive Director, Connie Sanderson, noticed a curious email message in her inbox. It had come from the Ukraine, 6,000 miles away, with an inquiry that would pave the way for a joyous and emotional family visit to the childhood home of beloved father and grandfather, John Newill, who lived at Kurn Hattin Homes from 1917-1920. The email was a stab in the dark for grandson Ken Sears, who was doing genealogical research to find out where his grandfather had grown up. Little did Ken know that not only had he found the right place, but in the Kurn Hattin Archives were original letters written by John Newill in the 1920's—letters which gave Ken, his mother Mary Ann of Texas, and her two sisters, Marguerite and Florence of New York, a new understanding of the man who had been a quiet and loving presence all their lives.
Ken, his mother, and his aunts made the trip to Kurn Hattin in August. Seeing the farm where their father had worked as a boy was one of the many moving moments of their visit on a sunny day last August. To finally know that he had been loved and cared for in such a nurturing setting was a relief to the three sisters, who had always wondered about their father's childhood. In a card sent after the trip to Kurn Hattin, Ken wrote: "Please accept this expression of our esteem for your wonderful work in honor of our father and grandfather, John L. Newill, who spent the happiest years of his boyhood at Kurn Hattin Homes." For Ken and his mother and aunts, the click of his send button on a blustery winter day brought a new joy and peace to their lives forever. (Pictured: John Newill with his grandson Ken)
Joe Piro and Jo-Ann Piro Buzzi
Jo-Ann Piro Buzzi grew up knowing that her father, Joe Piro (Kurn Hattin Class of 1939), hadn't had it easy as a child. Knowing, he hadn't grown up in a traditional "home" with parents, brothers and sisters, she had always thought of her dad's childhood as sad. The first time Jo-Ann visited Kurn Hattin campus, she realized she had been wrong. After accompanying her dad to a Kurn Hattin Family Day a few years ago, she wrote this letter to the school. It said, "I realized after this trip that my father grew up in a loving home with values being taught. Kurn Hattin Homes taught him how to be a good, responsible human being, which makes him the man, father, and grandfather he is today. For this I am grateful."
Claude and Brianna Coble
Claude Coble came to live at Kurn Hattin in 1966 after his mother passed away. "It was a difficult time," he said, "But the staff and teachers helped me immeasurably in adjusting to my new environment." Claude kept busy during his three years at Kurn Hattin, participating in sports through all the seasons and playing trombone and drums in the music program. "The social skills and discipline I received helped me learn acceptance and tolerance and how to have a positive attitude. I really credit that to Kurn Hattin."
Years later, Claude and his wife Paula found themselves facing some of the challenges of raising a child in today's society. Their daughter Brianna wasn't reaching her potential at her school, and it was Claude's positive childhood memories that prompted him to reach out to Kurn Hattin for help.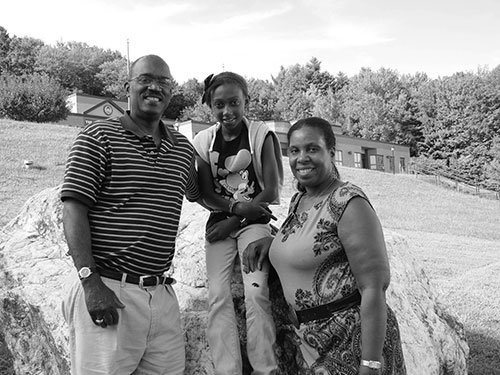 Brianna has just finished her second year at Kurn Hattin and is a regular on the honor roll. Like her father, she's a drummer, plays basketball, and also sings in the choir. "When she comes home during school break, she asks if there is anything she can do to help. She's confident and polite. With her head held high, Brianna adds, "It was amazing to be able to follow in my father's footsteps. I came here for a better education and surroundings. School is definitely better." Claude says he's indebted to Kurn Hattin. "This place transformed my life. I would not have had the life I have, had I not come here. And now, in a time of need, it's also helping my wife and me with our daughter. She'll do just fine now too."
From the past to the present, the Kurn Hattin family continues to grow, and the work of changing lives for the better continues generation after generation, thanks to our dedicated staff, generous donors, and kind supporters.