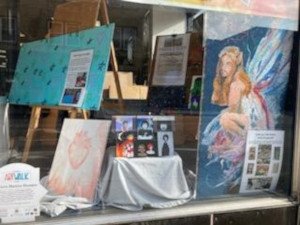 At 32 years and counting, the Keene Art Walk is the city's longest running community event. The annual exhibition features submissions from area artists and students and offers an opportunity for experienced and burgeoning creatives to share their artwork with a public audience. The 2023 Art Walk marked first time that artwork from Kurn Hattin Homes for Children was part of the event.
Located in the corner window of Comic Boom on West Street, Kurn Hattin's display featured a diverse selection of art that echoed the Art Walk's perennial theme that Art is Everywhere. In addition to graphic artwork and traditional acrylic on canvas paintings, the display featured one example of a ceiling-tile-turned-painting from the Kurn Hattin art classroom and two computer-aided vinyl wallcovering designs that students created during a fieldtrip to Len-Tex in Walpole, NH. The lesson emphasized to Kurn Hattin students is that art can be found all around. They are continually encouraged to think outside the easel to recognize, appreciate, and incorporate art in their own environments. Everyone at Kurn Hattin Homes, especially the students, would like to extend a sincere 'thank you' to the Art Walk committee for the opportunity to participate and to business owner Cory Milotte for welcoming student art into his Comic Boom storefront window.
If you missed seeing this Kurn Hattin exhibit in person, please mark your calendar for the 2024 Art Walk next June.
About Keene Art Walk
Art Walk Keene is an annual celebration of local artists.  Every June, Main Street in Keene, NH comes alive with art in mediums that include oil, pastel, photography, watercolor, quilting, mixed media and more. It's an opportunity for residents and visitors to take a self-guided tour around town as artists partner with local merchants to set up a personal gallery for their creations. Please click here to learn more about Art Walk and the Keene art community.