Stuart Kaufman of Keene State College recently wrote a wonderful feature article about Kurn Hattin's Lisa Bianconi. Lisa graduated from Keene State in 1999 with a Master's Degree in Education and has gone on to accomplish great things over the past three decades as Kurn Hattin's Music Director.
We wanted to share the inspiring article written by Stuart for the Keene State College community.
Lisa Bianconi M'99 a Grammy Finalist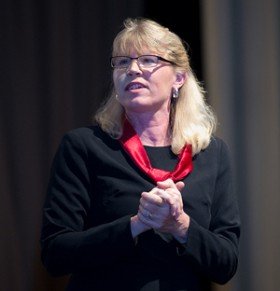 The bucolic setting of the 280-acre Kurn Hattin Homes for Children campus in Westminster, Vermont, is probably the last place you'd expect to encounter a Grammy nominee, but that's where you can find Lisa Bianconi M'99. Like a bridge over troubled waters, Bianconi, the music director at Kurn Hattin, a residential school serving children from disadvantaged backgrounds, uses music as a soothing and inspiring diversion for Kurn Hattin students who are affected by tragedy and social or economic hardship.
Drawing great enjoyment and satisfaction from her all-encompassing job, teaching general music classes as well as directing the marching, jazz, and concerts bands and several choirs, the Rutland , Vermont, native and Keene State grad found herself in the spotlight last spring when she was nominated for the first-ever Music Educator Award presented by the Grammy Foundation. Read more…