If a child is to keep alive his inborn sense of wonder, he needs the companionship of at least one adult who can share it, rediscovering with him the joy, excitement and mystery of the world we live in.
~Rachel Carson
This week, Kurn Hattin takes time to honor and express gratitude to our volunteers at the Annual Volunteer Appreciation Banquet.
Among the wonderful people being recognized at each year's banquet, there are always familiar faces – friends who have been coming back year after year to support students in academic classes, to help out in the music, sports, or equestrian programs, to offer guidance, lend and ear, or just be there for a child in need. When students graduate and leave campus, volunteers continue to serve as mentors supporting students through the transition, keeping in touch, and maintaining the Kurn Hattin connection.
Janet Wilson is one of those familiar faces. Janet has been donating her time and her terrific energy to children at Kurn Hattin for the past 16 years. These days, she can be found most often in the music room, keeping the beat with Music Director, Lisa Bianconi, and sharing her enthusiasm and love of music with the children.
In celebration of Volunteer Appreciation Month, Janet shared the story of how she got involved with Kurn Hattin. And a few of those whose lives she has touched shared just how much Janet's work has meant to them over the years.
How did you get involved with Kurn Hattin?
JW: It all started with an invitation from Connie Sanderson (the current Co-Executive Director of Kurn Hattin) to come for a visit and talk to the 8th graders about jobs and careers and applying for work in the future. At that time, I was owner of a retail store in Brattleboro, Vermont and I was glad to do it. I knew that Kurn Hattin served children in need, and Connie's enthusiasm and our discussion of the school's mission to help these kids have a brighter future, convinced me that this was a special opportunity to share my knowledge/experience with some very special students.
How did your involvement with the music program start?
JW: Upon my retirement from my business, Connie suggested I start volunteering on a more regular basis. I said "sure," having no idea where I could be useful. I worked all year with one particular young man, helping him with reading, vocabulary, writing, spelling, etc. This experience taught me that I could make a difference in someone's life, and I knew for certain that I wanted to continue volunteering. One day I walked into the music department and offered to help the music director, Lisa Bianconi. I began working with individual students who were learning to read music and playing their instruments. I quickly became totally engrossed with the students musically, and soon I was helping with the choruses, and even occasionally marching and performing with the band!
What aspects of your volunteer work at Kurn Hattin do you enjoy most?
JW: I have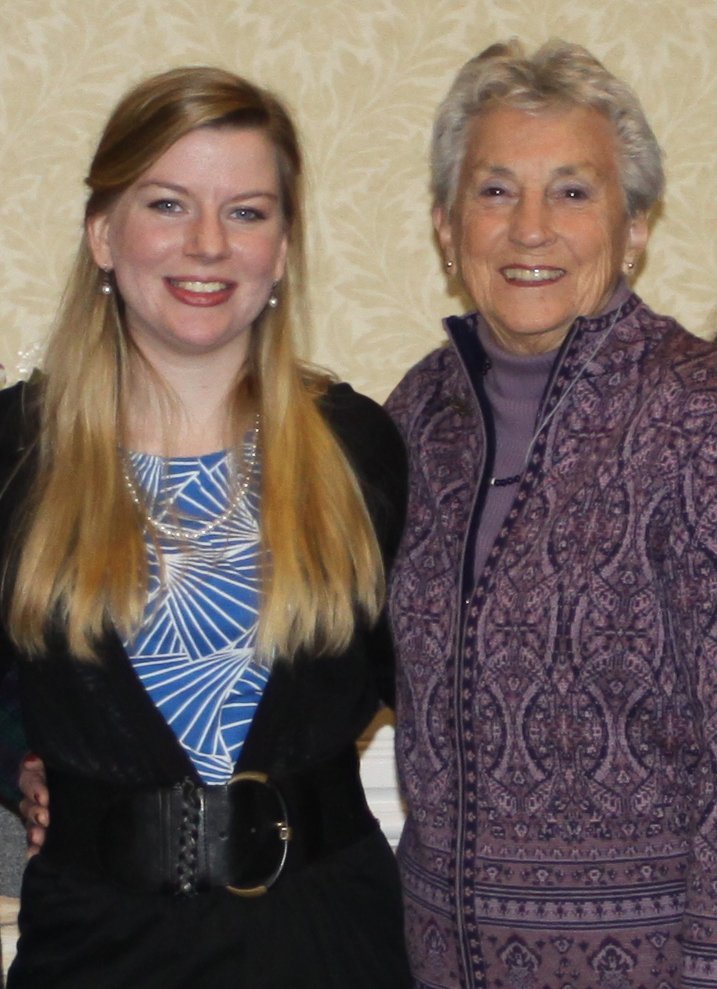 been and continue to be involved with Kurn Hattin in various capacities, including as an Incoporator and a Trustee, but working directly with the children is the most rewarding part of my involvement with Kurn Hattin and I am reminded of that every day I am there.
One very special aspect of my involvement has been the opportunity to serve as a mentor to a very talented student and a wonderful young woman, Lyssa Jackson. Lyssa has since graduated from Kurn Hattin, is now on a 4-year scholarship at Skidmore College. She continues to be an important part of my life, and I'm thankful I came to know her through my work at Kurn Hattin!
Pictured at right: Lyssa Jackson and Janet Wilson
Appreciation for Janet Wilson
Music Director, Lisa Bianconi: Janet is one of the most energetic and loving people that I have ever met. For the past 16 years, she has donated many wonderful hours in the music department. Through her kindness and talents, our students have achieved great success in many areas. She is a second mother to me and a mentor to many. Janet is loved loved by all of the Kurn Hattin children. She is an amazing volunteer and we are thankful for her every day!
Graduate Lyssa Jackson: Mrs. Wilson has been my "official" mentor for the past six years since I graduated from Kurn Hattin, but truthfully she has been my mentor since I showed up at Kurn Hattin's doors in 2004. As a volunteer in the music program, she fostered the confidence that she already saw in me and made it stronger. Her role in my life, however, goes far beyond that of a volunteer or even a mentor. In the eighth grade, Mrs. Wilson brought me on visits to private high schools, including The Putney School, which I attended on a full scholarship. When I was nearing my graduation from Putney, she brought me on college tours and admissions interviews. I am currently a rising Junior and an Opportunity Scholar at Skidmore College, a private, new ivy league college in Upstate New York. I am working toward a B.S. in Management and Business with which I hope to help non-profits like Kurn Hattin thrive. Without Mrs. Wilson's commitment to my success, I would not have known just how bright my future could be and I would not be where I am today. Even after everything she has done for me, I know that she will continue to show me endless possibilities and limitless support.
Kurn Hattin thanks Janet and all of our amazing volunteers for encouraging students at this safe place for kids to reach for their dreams, and showing them the endless possibilities in their future.