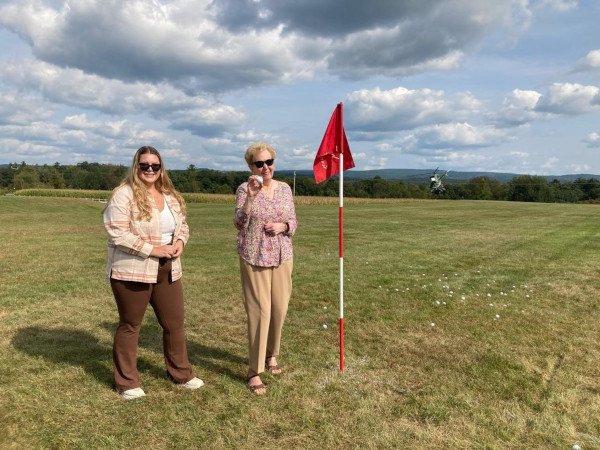 After a 10-year hiatus, the John A. Hubbard Memorial Kurn Hattin Homes Golf Classic rose like a phoenix to play again. On Monday, September 18, despite a day of heavy rain, a dedicated field of golfers turned out at the Keene Country Club to play in a full-handicap scramble in support of the Homes. In golf, low numbers are good. In golf fundraising events, high numbers are great! This event included 82 golfers, 25 sponsors, 15 volunteers, and netted more than $48,000.
Standing by the target pin in the Kurn Hattin Homes ball field, Rachel Johnson (left) and Susan Johnson announce #54 as the winning ball in the Homes' Helicopter Golf Ball Drop fundraiser. This event was originally scheduled to be part of the 2023 John A. Hubbard Memorial Kurn Hattin Homes Golf Classic, but Mother Nature rained down and grounded the helicopter on tournament day. Kevin Provost, owner of Monadnock Choppers, and seen airborne in the background, promptly rescheduled. This time around, the Helicopter Golf Ball Drop happened on the Kurn Hattin Homes campus, with the children and staff cheering on from the sidelines. The Homes' Director of Maintenance Adam Hallock took the co-pilot seat and dropped the 100 golf ball entries out of the helicopter and down to the target pin. The winner of the $2,500 prize, John Willette of Swanzey, NH, declined his winnings and instead turned the prize money back to Kurn Hattin Homes in memory of Peter Johnson, event co-chair and sponsor.
Thank You to all who participated, played in the rain, sponsored the event, contributed prizes, volunteered, bid on auction items, purchased raffle tickets, and helped make the return of this golf tournament a win for the Kurn Hattin Homes for Children!
Thank you to all 2023 John A. Hubbard Memorial Kurn Hattin Homes Golf Classic Sponsors
Hubbard's Platinum Angels Sponsors:
Savings Bank of Walpole
For the Promising Future of Service to Children
Hubbard's Gold Stars Sponsors:
Maple Hill Nursery & Greenhouses
TD Bank
Hubbard's Silver Champions Sponsors:
Alburg Golf Links/Diane & Luke Bazin
Prime Buchholz, LLC
RE/MAX Town & Country
The Richards Group
Lunch Box Sponsor:
Farnum Insulators
2nd Place Prize Sponsor:
Fenton Family Dealerships
Hole-In-One Sponsors:
Noyes Volkswagen
MJ Harrington Jewelers
Hole Sponsors:
Mr. & Mrs. Pat Crotty
Len-Tex Corporation
New Hampshire Charitable Foundation Ira S. & Gertrude S. Hubbard Memorial Fund
Primmer Piper Eggelston & Cramer PC
SERVPRO of Cheshire County
Closest to the Pin & Longest Drive Contests Sponsor:
Len-Tex Corporation
Helicopter Ball Drop Raffle Sponsor:
Monadnock Choppers, Kevin Provost
Publicity Sponsor:
Brattleboro Subaru
Monadnock Radio Group
Brattleboro Reformer
Signage Sponsor:
Springfield Printing Co. (SPC)
Derek MacAllister
Susan & Peter Johnson
Golf Tournament Towels Sponsor:
John A. and Carol A. Hubbard Charitable Foundation
THANK YOU to the Volunteers:
Diane Bazin, Eileen Fernandes, Harriet Davenport, Tricia and Rock Houstoun, Susan and Peter Johnson, Charles Kelsey, Sue Lober, Derek MacAllister, Tom Oxholm, Sylvie Rice, Maggi Suttles, Janet Wilson, John Zimmermann
Congratulations Golf Prize winners
First Place Gross: Ryan Paul, Derek Paul, Adam Kubeski, Eric Bergeron
First Place Net: Dominic Perkins, Denise Thomas, Kathy Collinsworth, Bob Collinsworth
Second Place Gross: Bert Inman, Bryan Duschesne, Mark McDonough, Sean McDonough
Second Place Net: Mike Theime, Bill Meddaugh, Chip Southgate, Ryan Owens
Closest to the Pin: Finn Scott and Christine Salema
Longest Drive: Richard Hill and Amy Mason
Putting Contest Winner: Scott Olmstead