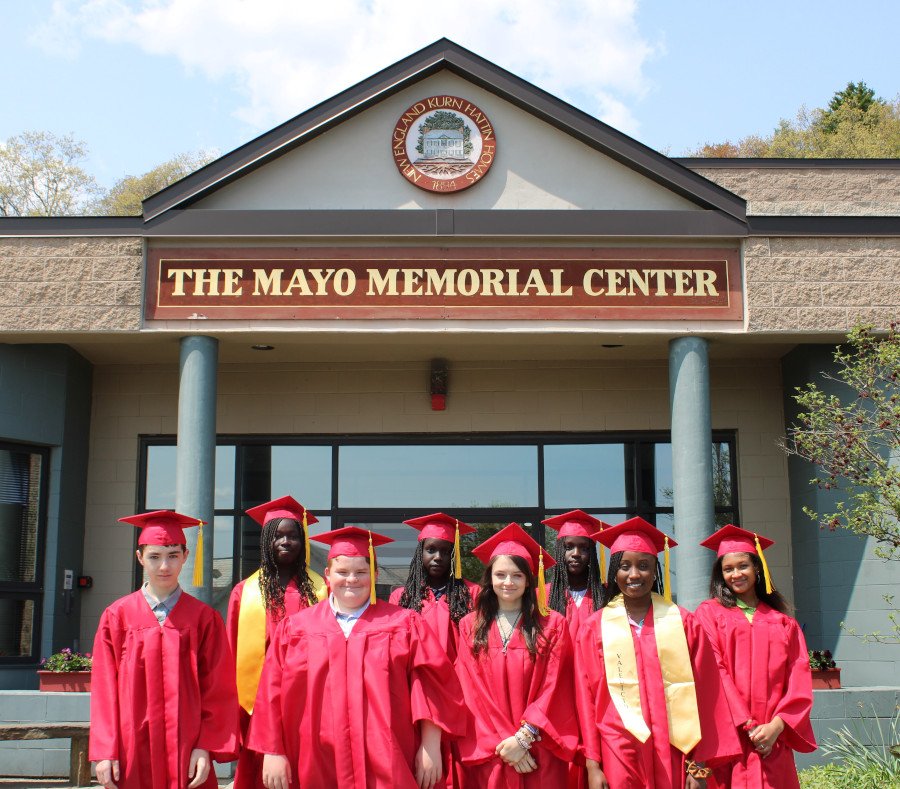 Eight 8th graders at Kurn Hattin Homes for Children did a remarkable job of staying the course and graduating on Saturday, June 3, 2023. Kurn Hattin Homes' Board President, Mark Bodin welcomed everyone and commented that the graduates were better prepared to take on what lies ahead from their time at Kurn Hattin. He praised their endless pursuit to become better—better students, friends, and community members. After the Invocation, Flag Salute, a selection from Kurn Hattin's jazz band, and Salutatorian, Awel Deng Dowang's address about success and achieving goals, the students were recognized for their Academic and Residential Awards which they received the previous day. Every student received an award this year! The graduates were recognized for their many talents and achievements with various additional awards:
RESIDENTIAL AWARDS:
GOOD CITIZENSHIP AWARD–RESIDENTIAL DIRECTORS
For the student who is most helpful and cooperative with other students
(In Memory of Mrs. Rudolph Novak)
-Nuna Zaire
SUITCASE:
For an 8th grade student who has shown outstanding progress
(In Memory of Esther Mayo and Priscilla Watson)
-Tegan Kilburn
MAIOLA ATHLETIC AWARD:
For all-around athletic excellence
-Trace Kline
WOODHULL MUSIC AWARDS:
CHOIR -Nuna Zaire
JAZZ BAND -Tegan Kilburn
MOST OVERALL TALENTED -Angong Yai & Athel Yai
INSTRUMENT AWARD -Awel Dowang
MASSACHUSETTS BOARD OF DIRECTORS' AWARD EXCELLENCE IN WRITING
For love of and excellence in writing
-Precious Adedeji
ALUMNI ASSOCIATION AWARDS
(Sponsored by Shirley Bacon Doyle, Class of 1949)
To deserving students who embody the spirit of Kurn Hattin through kindness to others and participation in all aspects of campus life
-Angong Yai & Athel Yai
JOHN P. BARRY & CHRISTOPHER W. BARRY AWARD
For the student who exemplifies the Kurn Hattin spirit and shows acts of kindness to staff and students throughout the school year
(In Memory of John P. Barry and in Honor of Christopher W. Barry)
-Angong Yai
ELEANOR WARD ACHIEVEMENT AWARD
For the 8th grade student showing the greatest improvement
-Wayde Hart
W.I. MAYO MEMORIAL AWARD
For outstanding all-around achievement by an 8th grader
-Precious Adedeji

VINCENZO JAMES RUGGIERO MEMORIAL SCHOLARSHIP AWARD
In Memory of Vincenzo "Vinny" Ruggiero, Class of 2018
-Awel Dowang
ROBERT P HUBBARD MEMORIAL SCHOLARSHIP AWARD
For a current or past graduate who has an aptitude for art, literature, writing or the visual arts
(In Memory of Robert P. Hubbard)
-Tegan Kilburn
In Valedictorian, Oluwabamise Precious Adedeji's farewell speech, she quoted Nelson Mandela who said "A winner is a dreamer who never gave up," and asked her fellow classmates, "Remember to stay positive and keep dreaming because we are all winners."
After receiving their diplomas, the 8 graduates proudly moved their mortarboard tassels to the left and all cheered. Congratulations to the Kurn Hattin Class of 2023! Pictured from (L to R): Wayde Hart, (Townshend, VT); Awel Deng Dowang, (Manchester, NH); Trace Garrett Kline, (Chester, VT); Angong Kenyang Yai, (Manchester, NH); Tegan Nicole Kilburn, (Manchester Center, VT); Athel Kenyang Yai, (Manchester, NH); Oluwabamise Precious Adedeji, (Manchester, NH); and Nuna Renee Zaire, (Richmond, VT).
Thank you to Terry & Marya Holcombe for sponsoring the Happy Cows Ice Cream truck as a special treat after the luncheon. Since 1894, Kurn Hattin Homes for Children has helped thousands of children and their families by offering a safe home and quality education in a nurturing environment. Its mission: Kurn Hattin transforms the lives of children and their families forever