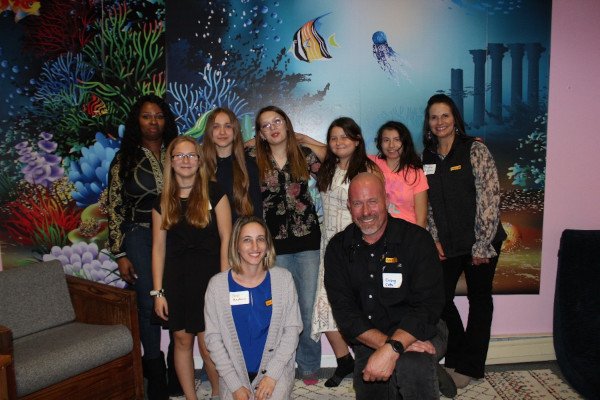 Guess who's coming to dinner?
Following in the footsteps of tradition, Kurn Hattin Homes for Children hosted its annual Adopt-A-Cottage night in recognition of the organizations and individuals who sponsor the cottages where the children live on campus. This event is beneficial in so many ways. It gives the staff and children an opportunity to show their appreciation to those who have "adopted" their cottage, while also providing an opportunity for sponsors to get acquainted with the children and see firsthand the impact their contributions.
The event began with invited guests enjoying dinner and an ice-breaking activity with the children who live in the cottage they sponsor. The activities, which might include sharing an interesting personal fact or taking part in a communal art project, set the stage for lively conversation and interactions. When dinner was over, staff and students welcomed visitors into their cottages for dessert and an opportunity to socialize, learn about the daily lives of the children, and see firsthand how their sponsorship dollars are being utilized.
The Adopt-A-Cottage sponsorship program provides funds for basic necessities of cottage life, as well as something special each year. This year, the focus was on the outdoors. The donated funds will go toward purchasing each cottage a gas grill for outdoor cooking, with remaining funds being allocated for new basketball hoops on campus.
Thank you to everyone who supports the Kurn Hattin Homes' Adopt-A-Cottage Program: Cota & Cota, Savings Bank of Walpole, Keene Elm-City Rotary and Dave & Lisa Therrien; Streeter Contractors, LLC; and Mascoma Bank.
For more information about this program, please contact Kim Fine at kfine@kurnhattin.org or (802) 721-6914.