Kurn Hattin Homes Unveils New Mission Statement
March 1, 2012 | Westminster, Vermont – On Wednesday, February 29th, Kurn Hattin unveiled its new mission statement at an all school assembly. It was an inspirational gathering. Our new mission statement: Kurn Hattin Homes Transforms the Lives of Children and Their Families Forever.
One student shared: "Kurn Hattin is the ladder to get you down from the roof; it's the floaty when you can't swim; it's the backup copy of an important paper. It's here, in all of us. It's the bandage that holds our lives together." Another student: "Kurn Hattin has found a place in my heart, making it not just a school, but a home. I've changed so much I don't even recognize myself."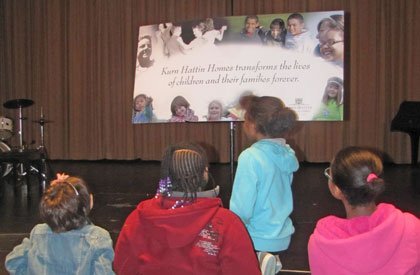 The new mission statement was an amazing process. It began when a mission statement committee was formed in response to a desire for a shorter mission statement, which would communicate the Kurn Hattin mission with more clarity and be more inspirational. The committee was composed of trustees, alumni, staff members, a grandparent of a graduate and a social services professional who refers children to Kurn Hattin. Over the course of several months, the committee discussed the beliefs and values of the organization, what a mission statement is, reviewed samples deemed evocative, heard the stories told by graduates about the impact Kurn Hattin had on their lives, and sought input from a random sampling from our mailing list; a Facebook survey; trustees and incorporators; a staff bulletin board seeking feedback; and area volunteers and clubs.
These constituencies were asked to respond to two questions: 1) When you think of Kurn Hattin, what words come to mind? 2) How would you describe Kurn Hattin's purpose?
The committee then recorded the words into a software program which visually represents words based on the number of times a word is used. This helped the committee focus on how the greater community identified with Kurn Hattin. After several meetings. the committee began to discuss and shape a new mission statement for Kurn Hattin. Christopher Barry, Executive Director complemented the mission statement committee, "The energy and cross section of people on this committee worked so well together to create a remarkable statement that is concise, clear and direct and imparts what we, the staff, work so hard to achieve every day. It's perfect." Kristy Trujillo, Class of 1986 wrote this on Facebook after reading a post about the new mission statement, "Wow, reading this made me cry, this describes Kurn Hattin so wonderfully. It did change me and my family forever. The best memories of my childhood were made there with some of the most amazing brothers and sisters that I will always have. Kurn Hattin is still in my heart and all the boys and girls are still my brothers and sisters, even after 25 years. I love Kurn Hattin."
Kurn Hattin Homes is a year-round, charitable home and school for in-need and at-risk boys and girls, ages 6-15, from throughout the northeast.
Contact: Kim Fine
Kurn Hattin Homes
PO Box 127
Westminster, VT 05158
Tel: (802) 721-6914