Kurn Hattin Jazz Ensemble Plays Burlington's 30th Annual Discover Jazz Festival
WESTMINSTER, VT—Thirty student-musicians from the Kurn Hattin Homes Jazz Ensemble performed at the Burlington Discover Jazz Festival this past Tuesday, June 4. This year—the festival's 30th anniversary— marked Kurn Hattin's first time participating in the event. The ensemble played an hour-long set on the outdoor stage on Church Street in the heart of downtown Burlington. The Burlington Discover Jazz Festival was started in 1983 to celebrate the local jazz community and showcase the talents of jazz legends from around the globe. This year's headlining acts include Bobby McFerrin, Branford Marsalis, Eliane Elias, and Pancho Sanchez and his Latin Band. Throughout the 10-day event, jazz performances and workshops take place at venues all over the city, including private stages and outdoor locations downtown and along the waterfront. "The festival organizers have invited us for a number of years, and finally, this year we were able to rearrange our schedule to make this amazing experience happen," said Kurn Hattin's music program director, Lisa Bianconi. "I hope we can make it a yearly event."
The festival served as a type of family reunion for some of Kurn Hattin's connections in northern Vermont. Alumnus, Sam Paulino, stopped by the stage along with his mother Chantal, to visit his former music teacher and friends. Chantal Paulino said, "It was a memorable afternoon on Church Street watching Sam's alma mater—so many familiar faces and friends. They are the true meaning behind the saying: "It takes a village." They welcomed Sam with such warmth today."
Kurn Hattin Homes is wrapping up a banner year for its music program. Lisa Bianconi is one of 217 quarterfinalists, selected from 30,000 nominations, for the first-ever Grammy Music Educator's Award. In addition, the school's Select Choir appeared on stage with Grammy-winning fiddler Natalie MacMaster and won top children's gospel performer in public television member station WGBY's "Together in Song" choral competition.
Music has played an essential role in life at Kurn Hattin since the school's beginnings over a century ago. Today, all 105 students participate in one or more aspects of the music program, and all students in grades 4-8 learn and perform on band instruments. The children perform over thirty public concerts in an academic year, and Kurn Hattin also hosts annual invitational concerts attended by jazz bands and choruses from area schools.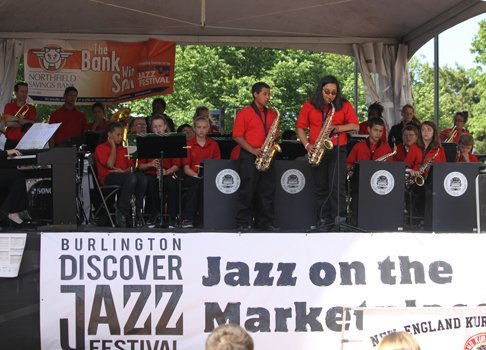 Saxophone Left: Dominic Cherbonneau, Right: D'Leanne Solovei. Additional high-res photos of this event are available here.
Established in 1894, Kurn Hattin Homes for Children in Westminster, Vermont is a charitable, year-round home and school for boys and girls, ages 6-15, who are affected by tragedy and social or economic hardship. Kurn Hattin Homes transforms the lives of children and their families forever. www.kurnhattin.org
---
Watch the News Channel 5 Story on Lisa Bianconi and the Kurn Hattin Jazz Ensemble!