Kurn Hattin Plays and Pays Special Tribute on Memorial Day
June 6, 2011 | Westminster, Vermont–The Kurn Hattin Choir and Marching Band were part of the impressive line up at the 2011 Rockingham Memorial Day Observance hosted by Pierce Lawton Post #37 American Legion.
The Children sang You're a Grand Ole Flag and later marched in the parade from School Street to Rockingham Street. Playing an instrument and marching with the children, as he has for the last six years, was Father Lance Harlow, the pastor of St. Charles Church in Bellows Falls. Father Harlow has dedicated a good deal of his free time to the Kurn Hattin Music Program and performs with the children in most of the school programs and parades. Sadly for all of us, he's being reassigned and will be leaving the area this summer. "Father Lance Harlow has donated countless hours to the Kurn Hattin Music Program in the past 6 years. His positive influence and muscle talents on several instruments have been an asset to the program. I will miss his kindness, generosity and friendship to our children and wish him much happiness and success. He will always be a part of the Kurn Hattin family," Lisa Bianconi, Kurn Hattin's Music Director says so aptly. Pictured is Father Lance Harlow marching with the Kurn Hattin children on Memorial Day.
Kurn Hattin Homes is a residential, year-round, charitable home and school for in-need and at-risk children, ages 6-15, from throughout the Northeast.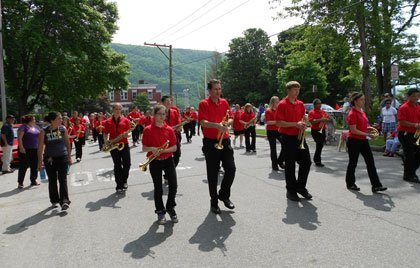 Photo caption: Kurn Hattin Marching Band at the 2011 Rockingham Memorial Day Observance hosted by Pierce Lawton Post #37 American Legion